Scott Dureau eager for Catalans return after four months out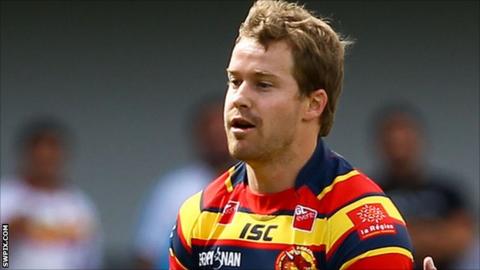 Catalan Dragons scrum-half Scott Dureau has spoken of his frustration at being forced to sit out four months of the Super League season.
The 26-year-old has now been cleared to return to full training
"The worst thing has been watching the games," Dureau told BBC Sport.
"I want to be out there, but there's not been much I can do, just lots of rest and light duties for four months."
The former Newcastle Knights half-back has been one of the stars of Super League since his arrival in Perpignan for the 2011 season.
And he said: "I can't sit still for two minutes let along four months, so it's been frustrating but we're now at the back end of it all.
"I've got the green light to resume training without restrictions, which means contact and everything just like a real game. Hopefully that all goes well, with the possibility of playing again in four to six weeks."
Dureau was an ever-present for the Dragons last term, scoring points in every game and won the Albert Goldthorpe Medal for 2012 as reward for the 'best and fairest' player in the competition.
News of his recovery has therefore come as a welcome boost for the Catalans squad, who have coped admirably in his absence and currently lie fifth in the table.
"The boys are doing a great job, we've still got a few injuries that is tough for the club to deal with at the moment, but that's rugby, and they've got us into a really good position," Dureau said.
"Hopefully over the back end of the season we can keep getting more and more players back and mount a good challenge for the Challenge Cup or the Grand Final.
"They're [the players] obviously excited for me as well, I've got a lot of friends here as we've been here for two years, spent a lot of time together travelling,"
"It was a big shock at the start of the year and now to be at the back end of everything that happened, and get the green light health wise first of all and to get back playing, everyone is over the moon."
The various absences of several players, including Dureau, Vincent Duport, Brent Webb, Lopini Paea and Olivier Elima, have forced coach Laurent Frayssinous to dip into Steve Deakin's St Esteve squad, which operates as the Dragons' reserve outfit.
The result has been a crop of talented French players putting themselves in the spotlight, notably full-back Morgan Escare, prop Julian Bosuquet and half-back William Barthau.
"It's a massive bonus especially too in a world cup year for the French side," Dureau said.
"There are a lot of young kids in our side who are going above and beyond what anyone expected of them.
"Guys like Morgan Escare, Antoni Maria, Mathias Pala have been absolutely fantastic this year and it's been really good for me to watch.
"I'm sort of proud of these young guys, I've trained with them over the last few years as they were coming through the system and now they're getting their chance and grabbing it with both hands."