Warrington Wolves: Lee Briers set for comeback with Swinton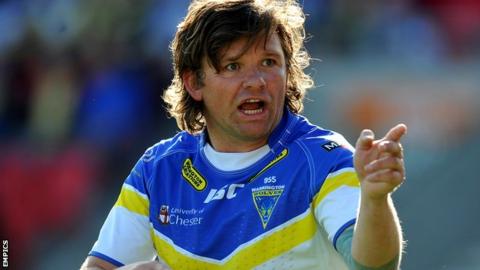 Warrington Wolves half-back Lee Briers will end a three-month injury absence by turning out for Championship side Swinton Lions on Thursday.
But the 34-year-old, who has not played since 8 February, does not expect an easy evening against Whitehaven.
"There are some good players and some good teams in the Championship," Briers told BBC Radio Manchester.
"I haven't done anything for 12 weeks so it's going to be a great challenge and one that I'm looking forward to."
After featuring in Warrington's first two Super League fixtures, Wales international Briers was initially ruled out by a neck problem.
He was due to return for the Wire against Keighley in the Challenge Cup last month, but in the days leading up to the game.
Head coach Tony Smith said: "Lee will be out there to try and get himself back to form and fitness. He had another setback with his calf but he's come through that and he's raring to go. The coaching staff are all going over there to give him every bit of support."
Warrington's dual-registration agreement with Swinton has allowed Briers the chance to build up his fitness ahead of his first-team return for the Wolves - an arrangement that Smith believes is beneficial for all parties.
"There's an opportunity for people to play alongside him and learn from him," he said.
"In most systems around the world, there would be a reserve grade or second team. They're certainly not our reserve team but they're our partner club.
"I think it adds a lot of interest to the Championship and Swinton. It challenges the opposition in a better way and it educates the younger guys."