Super League referees answer fans' Twitter questions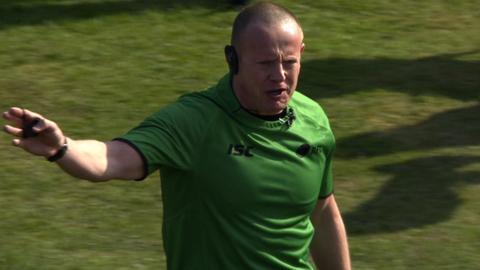 Super League supporters can now ask referees questions on their big-game decisions via a regular online debate.
Top-flight referees will use Twitter every Tuesday afternoon to answer questions from fans.
Richard Silverwood was the first Super League referee to try the scheme.
"It's about time we went out and said, 'We're good referees but we make some mistakes'," he said. "I think it's a really good idea to use social media to put our views out there."
This week, James Mendeika of London Broncos was absolved of having used his knees in contact and Jordan Tansey, of Castleford Tigers, avoided suspension after he submitted an early guilty plea in relation to a Grade A high tackle.
And Silverwood added: "The picture that's painted by the media and TV commentators is sometimes not quite right.
"Already this week we've tweeted about decisions from the weekend and about the fitness drills and video analysis that we've been doing.
"It's time we celebrated what a good job we do. Maybe other sports could take note?"
Silverwood views the ongoing conversation regarding decisions as a positive one.
"For a long time there's been a view is that we just turn up for games, make decisions that are viewed as wrong, take no accountability, and then go back in our box," he added.
"But I've been a Super League referee for over 12 years and know what it takes. You make that many calls during a game and move on quickly to the next one.
"There's got to be some time to reflect, look at the evidence, and then come out with the answers. I think fans will appreciate the honesty."