Warrington's Brett Hodgson opposes salary cap increase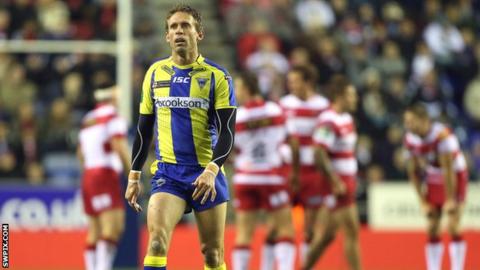 Warrington's Brett Hodgson believes a Super League salary cap increase would not stop players leaving for Australia's National Rugby League.
Super League's salary cap of £1.8m is around half that of the NRL.
But Hodgson BBC Radio Merseyside: "I don't think the game or the economy [in England] can sustain a salary cap increase at the moment."
Cooper will join St George Illawarra at the end of the season, while
Salford City Reds owner Dr Marwan Koukash has in an attempt to prevent the stars of Super League leaving the domestic game.
But with the salary cap in Australia presently standing at around £3.8m and set to rise further in the next few years, Hodgson thinks any attempts to compete financially with the NRL could prove futile.
The 35-year-old full-back, who played for Parramatta and Wests Tigers before moving to Super League in 2009, continued: "For a young English kid who you take a risk on, you can probably get them cheaper than a similar talented player in Australia.
"I'm sure 'Coops' is probably getting a little bit more than what he's on here, but at the same time, he's probably getting less than what they would pay an Australian.
"For the players that want to go over there, there's nothing you can do to stop it. It doesn't matter how much you want to pay them - if that's what they aim to achieve in their career, it's going to be difficult. I don't think there's a lot the RFL can do in terms of keeping players here.
"I'm sure he [Koukash] would want to spend as much as he can to make a very competitive side [at Salford] but the way the climate is at the moment I'm not sure too many clubs could afford it."
Meanwhile, Warrington's veteran half-back as he returned from a three-month injury absence on Thursday.
The Lions beat Whitehaven 30-24 at Leigh Sports Village.