Chairman warns Barrow Raiders 'could go out of business'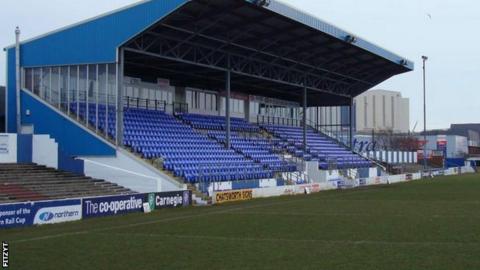 Chairman David Sharpe has warned that Barrow Raiders could go out of business this year because of "critical" short-term cash-flow problems.
The club are confident their long-term financial future is assured, but the lack of home fixture until June has caused a temporary financial shortfall.
"We've made all our debt repayments," Sharpe told BBC Radio Cumbria.
"But we are at a stage now where we will go to the members and let them know where we stand."
A public meeting will be held to discuss the potential crisis with supporters and members on Friday, 11 May.
Sharpe said: "Long-term, the prognosis is very good. We made an operating profit, but that money has been eaten up in paying off debts that belonged to the club in previous administrations."
"Whilst we're sure we will be debt-free in two or three years, our short-term problems may cause us to close this year if not addressed.
"In the last financial year the current board has cleared £269,226.04 of debt and interest payments. This financial year it has cleared a further £71,000.
"We are the ones who have had to pick up the pieces and try to keep the club running. This we have done."
Raiders were taken over in late 2011 after former chairman Des Johnston was banned from rugby league for eight years for his part in breaches of operational rules that led to Barrow's relegation from the Championship.
Sharpe and the team of directors at Craven Park appointed former player Darren Holt as coach and he secured an immediate return to the Championship.