Salford City Reds fined £10,000 for fielding 14th man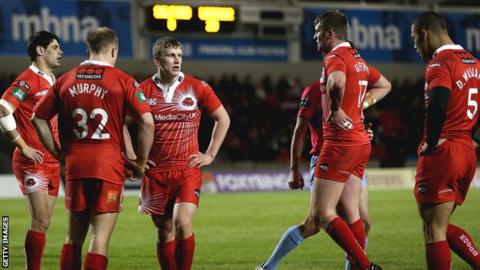 Salford City Reds have been fined £10,000 for fielding an extra man against Castleford Tigers.
The Reds had a 14th player for a short period from the 77th minute of their on 27 April.
Salford were deemed to be in breach of the rules after an independent tribunal in Leeds on Wednesday.
Meanwhile Brian Noble's side, who are bottom of Super League, are ready for a Challenge Cup fifth round tie against holders Warrington Wolves on Sunday.
Full-back Marc Sneyd, told BBC Radio Manchester: "It doesn't get any easier after Friday's game [a by league leaders Wigan] but that's what it's about.
"Warrington are definitely one of the in-form teams but it depends how they turn up. They might turn up a bit over-confident and we might turn up after a good week of training - you never know.
"I don't think there's any pressure on us [to win], but if there is any pressure, it's about getting better. As long as we don't get leathered, certain people will be happy, but we want to go there and win."