Widnes Vikings prop Ben Cross to retire at end of season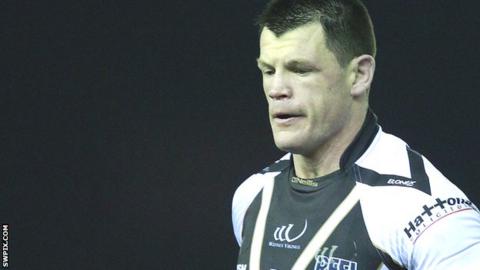 Widnes prop Ben Cross is to retire from rugby league at the end of the season.
Cross had hoped to continue playing next year, but hamstring and knee injuries suffered early in the campaign have convinced him to call it a day.
"I did my knee in my first game back and, if I'm honest, it was then when I thought 'enough's enough'," the 34-year-old told the club website.
"I genuinely don't think that I've got the drive left in me to keep coming back from injury after injury."
Australian Cross, who continued: "I'm a big believer that preparation leads to playing well.
"When you get injured and you can't train as often as you'd like every week, it's really frustrating and gets to you after a while.
"I'm really comfortable with the decision I've made and it's good to finally get it out in the open."
Cross is currently recovering from a partial tear of his anterior cruciate ligament, which is expected to keep him out for another six weeks.
The Vikings, who are currently 11th in Super League, for a place in the last eight of the Challenge Cup on Sunday.
And Cross, who was injured when Wigan won the competition in 2011, hopes to sign off his career with a run to a Wembley final.
He added: "For the team to progress into the semi-final stages and beyond, and for me to play my part in that, would be the ultimate.
"When I come back from injury, I'll only have around a dozen games left in my career. I'll be ready to enjoy them and give it all that I can for my team-mates and our terrific supporters.
"They stuck with the team and the club through thick and thin last season, and they're now starting to see the rewards for their patience.
"Personally, I'd like to thank them for making my time, and my family's time, really enjoyable."