Super League: Tony Smith fears 'mayhem' if RFL plans go ahead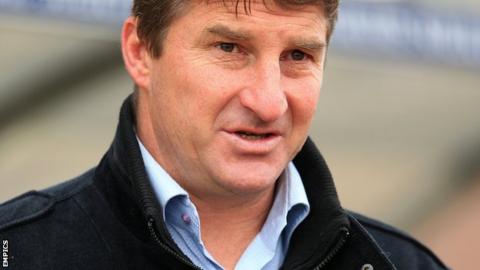 Warrington coach Tony Smith opposes plans to restructure Super League and has warned that substantial changes could cause "mayhem".
At present, teams are accepted into Super League via a licensing system.
Smith is worried that if the promotion-relegation model returns, clubs will put themselves in danger of financial trouble in an effort to stay up.
"I'm over the innovative tag for rugby league. What about being stable, strong and consistent?" said Smith.
Super League and Championship clubs are set to vote on which were announced by the Rugby Football League on Friday.
The most revolutionary involves two leagues of 12 teams, splitting into three divisions of eight half-way through the season.
Another involves a two-division Super League, and the third a Super League and Championship with one club promoted and relegated each season.
However, no changes can be introduced until the start of the 2015 season.
RFL chief executive Nigel Wood said: "The interest already shown in these ideas has been very encouraging and I believe these new proposals will produce positive change and innovation across the whole sport."
But former England coach Smith believes any changes would harm the chances of producing young English talent in the future.
He said: "It is going to be mayhem. Do you know how much money is going to be spent on development?
"We have been producing some really good young players, so much so that the Australians are coming here to take them."
Warrington's Mike Cooper is one of three English-born players to agree a move to Australia's NRL [National Rugby League] in the past month.
Smith continued: "We are starting to produce some half-backs, outside-backs, types of players that we have not produced for years and yet we change the system again.
"We take away that production system, take away the responsibility for clubs to produce those players and we go to a system that is 'popular' by all accounts. To just throw the whole system out the window is a knee-jerk reaction.
"Instead of asking 'what are we doing well and what is working for us?' we say 'let's change the whole thing again' or 'I'll give you a, b or c to choose from as I don't know what is going to work'."
Speaking to the BBC's Super League Show before the new proposals were made public, Leeds Rhinos forward and former England captain Jamie Peacock called for a system that resulted in more competitive matches being played during the season.
He said: "I'd like to see two leagues of 12 and then the salary cap reduced in the top league to £1.5m, but you would be able to pay whatever you like for two superstar players.
"Let's get some superstars back in our competition, but allow everyone to spend £1.5m. I think 12 teams could spend that.
"You could have a a top-six play-off, and the bottom three from Super League One and top three from Super League Two could have a play-off to see who goes up. You'd have a lot more games where something's on the line.
"We have too many games in Super League now where it doesn't matter if you win or lose because of the way the competition is structured."