Sam Tomkins: Wigan full-back hopes to play in London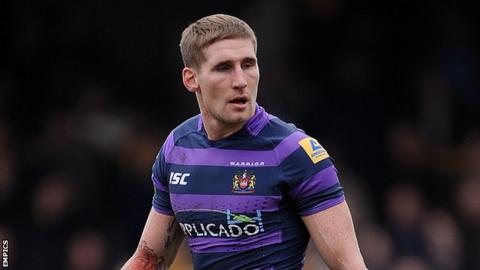 Wigan full-back Sam Tomkins says he would like to play in London at some stage of his career.
The 24-year-old England international has often been linked with a move to either Australia's NRL or a switch of codes to rugby union.
Asked if he thought he might play in the capital in the future, Tomkins told BBC London 94.9: "I'd like to think so, at some point.
"Not for a few years yet but anything could happen."
England international Tomkins, who was named as Super League's Man of Steel last year, is contracted to Wigan until 2016.
Under the terms of that deal he is not allowed to speak to other clubs until the end of next season.
Tomkins appeared for the Barbarians rugby union side at Twickenham in 2011 and last year Wales coach Iestyn Harris, who is also on the staff at Wigan, labelled him as "the best rugby player" he has seen.
Tomkins' brother Joel switched codes in November 2011 to join Premiership side Saracens and he often travels south to London.
"I come down quite a bit as my brother lives in St Albans," Tomkins added.
"My agent is based in London so I probably come down once a fortnight.
"It is a great place to be, a buzzing atmosphere and is pretty much the polar opposite to Wigan.
"I'd love to have the opportunity to live in London at some point. I'm sure I will in the future.
"It is such a different way of living but a great one.
"My brother enjoys it and I'd like to spend a few years living in the city and see what it's like."
The capital's sole representatives in Super League are London Broncos.
The side have struggled in recent years and are currently second-bottom of the table but Tomkins believes they will improve if they manage to keep hold of a young core of players.
"They have got some great players in the side and real talent in the young lads with Kieran Dixon and Dan Sarginson," he said.
"I think Sarginson has certainly got something about him and will be a massive start in the future. London need to keep hold of him.
"One of the massive points for success for any club is consistency in your squad.
"Every club tries to bring through a nucleus of players over a number of years who know each other's game inside out.
"It's more important for London than anyone.
"They've not got a history of winning trophies in recent years so now they have a bunch of young lads who can really play they game they need to keep them together."
Rugby Football League chief executive Nigel Wood has said the governing body needs to improve its strategy in London and Tomkins says that a successful side in the south is crucial for the sport.
"It is important for us to have a good London side," Tomkins said.
"The opportunities that come about from just being based in London are huge.
"If we could have a truly successful rugby league team in London it would be massive not only for the team, but for the game as a whole.
"Hopefully over the coming years London will keep that nucleus of players and young talent together and become a force to be reckoned with."