Wigan v Leeds: Magic Weekend excites Sean O'Loughlin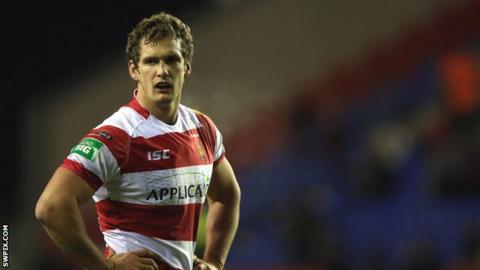 Sean O'Loughlin believes the game between Super League leaders Wigan and reigning champions Leeds will be a fitting climax to the Magic Weekend.
Sunday's fixture rounds off the two-day event at the Etihad Stadium.
"A lot of people have had their eye on it for a few weeks now," Wigan skipper O'Loughlin told BBC North West Sport.
"It's set up to be a great game. We're coming off the back of a couple of good wins and but we know what a quality side they are."
Wigan have a three-point lead at the top of the table and have won their last 10 matches in all competitions,
In contrast, the Rhinos were beaten at home by St Helens on Monday and remain fourth in the standings, while they were knocked out of the Challenge Cup by Huddersfield in their previous outing.
And if Brian McDermott's side are to avoid a third straight loss, they must find a way to stop a prolific Sam Tomkins.
The 24-year-old full-back has scored a try in each of his last 10 appearances.
Loose forward O'Loughlin said: "He's probably responsible for 20 points a game for us at the minute. That's the kind of player he is.
"He loves scoring tries and he's hungry to get over the line. He's one of those players that I'd sooner be playing alongside than against.
"Hopefully he can continue his form. You want your best players in the competition playing well at the end of the year for England's sake [with the World Cup beginning in October]."
Wigan lifted the League Leaders' Shield in 2012 but were unable to add any further silverware, losing to Leeds in the semi-finals of both the Challenge Cup and the Super League play-offs.
Their success in 2013, however, has not purely been down to Tomkins, who was rewarded for an outstanding campaign last year by being named
With several experienced players leaving at the end of 2012, head coach Wane has chosen to utilise the wealth of young talent at the DW Stadium to supplement his first-team squad.
Sam Powell, 20, and 18-year-old debutant George Williams were paired at half-back against London Broncos on Saturday, and both scored tries in a
Young forwards such as Greg Burke and Dom Crosby have also caught the eye, leaving unfounded.
O'Loughlin continued: "There have been times when we've had injuries and we've lost quite a lot of what you would call our starting side. When they [young players] come in and do such a good job, it's really pleasing for the team and the staff.
"When you give young lads a chance and they take it, it gives 'Waney' confidence that, if he needs them again in the bigger games, he'll have no worries of throwing them straight in there.
"With the side we've got, we were confident that we would be competitive all year. There have been parts of the season where we have been pretty depleted in numbers, so to have those younger lads coming in and doing such a good job has been great for us.
"Probably the biggest thing has been that, when they have come in, we've continued to pick up wins."