Wakefield: Taulima Tautai was close to Castleford switch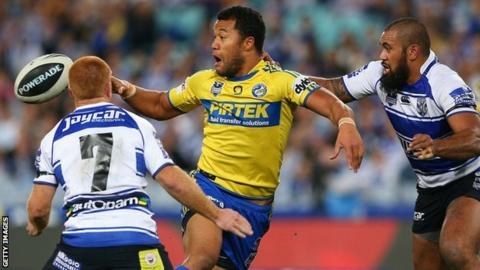 Wakefield prop Taulima Tatuai has revealed that he came close to joining Castleford prior to his move to the Wildcats from Parramatta.
The 25-year-old joined Richard Agar's side on a deal until the end of next season on Tuesday.
He is now set to make his debut against the Tigers in Saturday's Magic Weekend derby between the sides.
"It was pretty close, all I had to do was put pen to paper," he told BBC Radio Leeds.
"I got a phone call from them saying that they were looking for a new coach and they had to postpone the move.
"As soon as that happened Wakefield called me up and asked me if I was interested in playing here.
"I spoke to a few of the players and the coach and I got a really good vibe from them."
The Samoa international landed in the country on Wednesday and went straight to training with his new side.
He is looking forward to starting a new life in England.
"I think it's a good opportunity for me to travel and look around the world," he said.
"I think this country is beautiful, I never realised how beautiful it was before I got here. I've come from Sydney which is really urban but here there's a lot of green spaces and the air is fresh."