Widnes: Jon Clarke delighted with Vikings progress in 2013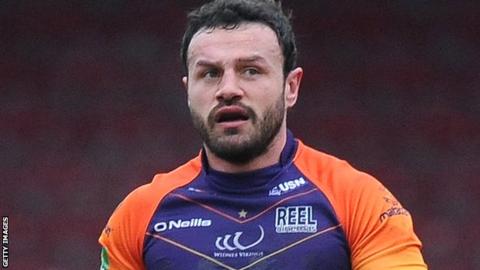 Captain Jon Clarke believes Widnes fans should be excited that players are buying into the club's vision to become a major force in Super League.
A number of first-teamers, including and have recently agreed new deals.
"I'm hoping that the club and (coach) Denis Betts are going to keep the core of the team together," said Clarke.
The Vikings lie 11th in the table, having finished bottom on their return to the top flight last year.
Widnes, who regained their Super League licence ahead of the 2012 season, have played 14 of their 27 league matches in 2013 and are just one point and one victory away from matching the totals they achieved last year.
They have claimed the scalps of local rivals and this season and have
The Vikings are currently four points behind Saints, who occupy the final play-off spot, and Clarke is confident that Widnes can continue their rise in the coming seasons if they combine a stable playing staff with some quality signings.
The former Great Britain international commented: "The club, as a whole, has progressed nicely after what was a very tough first year back in Super League.
"There might be one or two that go and one or two that come in, but we need to keep the nucleus of the team together to progress.
"If you look at the likes of Warrington and Wigan, most of the time they keep most of the team together and add a little bit here and there. That's the right way to do it and get some progression in your club."
Widnes make their second Magic Weekend appearance on Sunday when they face bottom club Salford City Reds, and they will hope to fare better than on their debut in the event 12 months ago.
on that occasion, but Clarke believes that proved to be a turning point for the side, who improved significantly following their hammering at the Etihad Stadium.
"It wasn't the best of days for us," he admitted. "We caught Warrington on one of those days where they were red-hot and they're very difficult to play against when they're like that.
"It highlighted a few defensive frailties that we had and over the course of the next few weeks after that game, we got a lot of things right.
"We learned some harsh lessons but some good lessons out of that Warrington game."
He added: "We're in a bit of a different position this year.
"We've had a decent first half of the season and we want to improve again towards the end.
"No disrespect to Salford, but it should be a more evenly-matched game. They're improving and they're dangerous with the ball so we're certainly not taking them lightly."