Rhys Hanbury: Widnes full-back agrees contract to 2016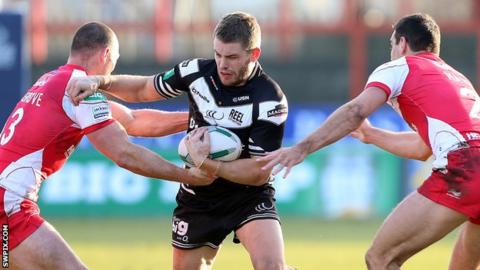 Rhys Hanbury has signed a new contract that will keep him with Widnes Vikings until the end of the 2016 season.
The form of the 27-year-old Australian full-back has been a major factor in the team's improvement during their second year in Super League.
Hanbury, who played for Crusaders prior to joining Widnes 18 months ago, has scored eight league tries this term.
He follows and in signing new contracts with Denis Betts's side.
Hanbury, who will also be on 14 June, told the club website it was good to get his future settled.
"It was an easy decision to stay at the club and in the Super League competition, but returning home was definitely another big option for me and my partner," he said.
"When I first arrived in this country, the original plan was to just give it a go for a couple of seasons at most, but we've been over here for four years now, which is a long time to be away from our family and friends.
"Having said that, we're still enjoying ourselves and we're confident that we've made the right choice."
Widnes coach Betts added: "We always knew in our mind that we wanted to keep Rhys, and it's great news that we've agreed terms and secured him for the next three years.
"We're not trying to make any statements with our signings. It's more a case that Rhys is here, he wants to be here and we want him to stay here.
"Being out of contract at the end of the current season, we know that Rhys could have chosen a number of clubs to go to.
"Ultimately, the decision was down to him and he chose to remain at Widnes, and we're really pleased that he will be contributing massively towards the future of this club."