Magic Weekend: Steve Ganson dropped as video ref after error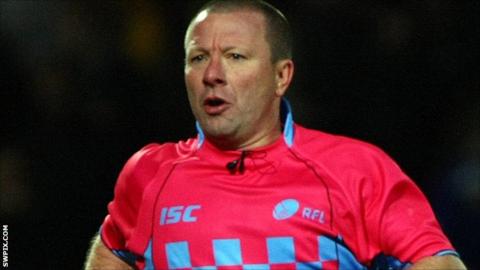 Steve Ganson was replaced as video referee for Sunday's Magic Weekend clash between Leeds and Wigan after a crucial error in the Hull derby.
Hull FC beat Hull KR 22-16 on Saturday after the 43-year-old gave a late try by Chris Green, who had been offside.
Rovers chairman Neil Hudgell described it as "the single worst decision in the last 10 years of rugby league".
And Ganson was replaced by Ian Smith for the match between leaders Wigan and champions Leeds at the Etihad Stadium.
Hudgell has called for a full explanation from the Rugby Football League.
In a statement on the Hull KR website, he confirmed that Ganson, the video referee for the match, had contacted him to apologise.
But Hudgell said: "I have a group of players who are distraught that their efforts have not had the reward which they deserved.
"I have supporters who have again turned up in their numbers at great expense and who feel cheated, and a coach fighting for a new deal whose livelihood could stand or fall on these decisions."
Following the match, the RFL acknowledged that Ganson, who stepped down as an on-field match official two months ago in order to become the RFL's referees coach after a career in which he officiated at two Super League Grand Finals, three Challenge Cup finals and two World Club Challenge fixtures, had "made the wrong call".
Head of match officials Jon Sharp said: "When Steve came in, he said 'I've made a mistake, I got the call wrong'.
"He explained his rationale and was honest. He was distraught for the department, the game and himself.
"There are consequences as we expect high standards. In the future, we're not saying Steve won't be a video referee again, but Steve doesn't need that pressure right now."
However, Hudgell said the RFL's response had been "wholly inadequate".
He continued: "In my opinion, we are no further on in improving the standard of refereeing than we were at the inaugural Magic Weekend when there was the Leeds versus Bradford fiasco."
In 2007, a Kevin Sinfield penalty came back off the post into the arms of an offside Jordan Tansey and the match-winning try was given by Ganson without review.
Hudgell added: "Legitimate criticism and debate is suppressed by a zealous desire to cover over incompetence, serious weaknesses and under performance.
"Every week someone, somewhere feels aggrieved, and it's us this week. I have zero confidence that will change any time soon."