Rugby league prepares to make its debut in Cornwall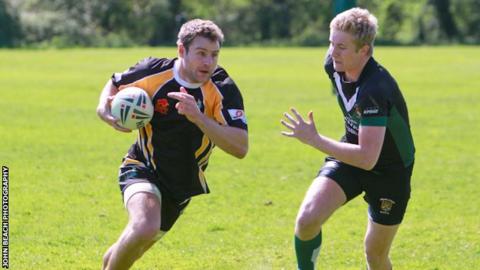 Cornwall is something of a hotbed for rugby with Cornish Pirates, Redruth and Launceston dominating the local sporting landscape, while the
But they all play the 15-man code, and the traditionally northern game of rugby league has never managed to cross the Tamar river and infiltrate the union-dominated county.
That has now changed in 2013 with the founding of the Cornish Rebels, who are in their debut season in the Rugby Football League's South West League.
This Saturday sees the first-ever competitive game to be played in the Duchy as the Rebels host reigning champions Devon Sharks at Redruth's Recreation Ground.
"It's been a long time coming to be honest," Rebels chairman John Beach told BBC Radio Cornwall.
Beach, who helps run a post office in Camborne, has been in Cornwall for 11 years, but his broad Lancastrian accent portrays his Oldham roots and his subsequent love for the 13-man code.
"We've worked for two years to try and make this happen," he added.
"To have such a big squad and such a great stage like Redruth to play on, with quite a lot of backing locally, will be very exciting, and to play the 2012 champions just tops it off even more."
The club has over 40 players registered and have taken advantage of a nearby military base to help bolster their squad.
"We have a strong contingent from RNAS Culdrose, so we do have a good solid base of rugby league players with a good scattering of young Cornish rugby union players who have come to the game to give it a go, and they're learning from the Navy lads.
"The boys are loving training at the moment, which is a pleasure - we had 28 at train this week which makes it tough when you try and name a 20-man squad from that."
So what of the prospects for the fledgling team?
They won their opening match 80-6 at the Exeter Centurions, but Beach is refusing to read too much into their fantastic inaugural result.
"I know the score suggests otherwise, but it was a very tough game. We did rack up some points in the last 20 minutes," he said.
"It was quite impressive overall, but the ability of the lads to soak up the pressure was immense, our discipline held up while a few cheap penalties were given away by the Exeter boys.
"Originally our aim was to complete every game, because I know that some teams in the South West League have at times struggled for players to make sure they have a strong travelling side of at least 13 if not 17.
"I still think that when it comes to the crunch-end of the season travelling will be an issue, but with 40-plus players registered hopefully we can travel well.
"We don't want to be dragged into whether we can make the play-offs or the grand final at the moment because we've only played one competitive game."
The Rebels are probably as far away from the Super League, both geographically and experience-wise, as it is possible to be.
But with the Cornish love for rugby, there's every chance that the opportunity to keep playing the sport through the summer will mean the Cornish Rebels will be playing for years to come.