RFL denies bottle thrown at Salford fans by Warrington player
Last updated on .From the section Rugby League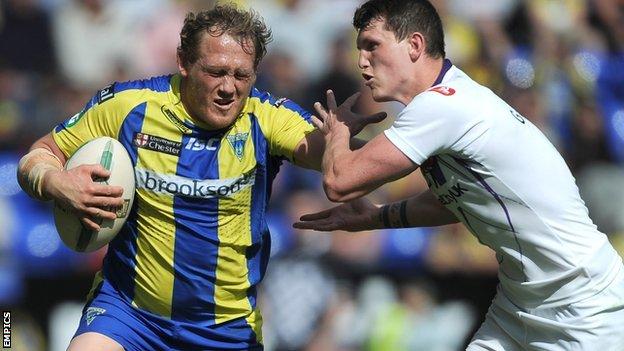 The Rugby Football League has rejected suggestions that a Warrington player threw a plastic bottle at Salford fans during Sunday's game.
The alleged incident occurred after the Wire scored a try in their 68-10 win.
"A Salford fan had obviously got upset and threw a plastic bottle onto the field of play," said match commissioner Ian McGregor.
"This bottle was then picked up by Ben Westwood, shown to the Salford fans and given to a steward."
He added: "Had it been thrown we'd take a totally different attitude and action. From my point of view, nothing untoward happened.
"I spoke to one of the photographers, who showed me some stills on his computer and one of them shows quite clearly Ben Westwood handing the bottle to the steward."
Salford City Reds owner Dr Marwan Koukash had indicated he was ready to launch an inquiry into the incident.
"If it is the fault of our fans and they didn't tell me the truth then I will deal with them," he told BBC Radio Manchester.
However, Warrington chief executive Andy Gatcliffe said that the match commissioner's report completely exonerated them.
"As such, there is no need for any club comment," he added."
The result left Salford second bottom of Super League and they have lost four of their last five games.
Head coach Brian Noble has spoken about the need to strengthen the squad, with Koukash promising that he will make significant investment ahead of next season.