Bradford Bulls need five more wins, says Brett Kearney
Last updated on .From the section Rugby League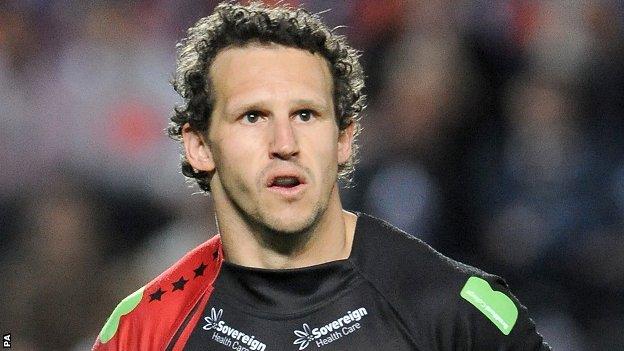 Full-back Brett Kearney believes Bradford Bulls need to win five of their final eight games to qualify for the play-offs.
Defeat at St Helens on Sunday saw the Bulls drop out of the top eight after winning one of their last six fixtures.
"We've hit a bit of a flat spot in the middle of the season. It's not unusual for teams to do that, but getting out of it is hard to do," said Kearney.
"I think we need at least 26 points, which is five more wins."
Kearney added: "If we can't do that, maybe we don't deserve to be there. But if we have a bit of a run going in, I'd be confident of beating any team on our day.
"At the moment things aren't falling for us, we're trying very hard but the energy we're using seems to be misplaced at times and we're making mistakes in the wrong areas, and too many of them.
"We have to improve, but if we can everyone will say we've timed it perfectly, starting [the season] strong and finishing strong."
The Bulls have a bye this week to accommodate the international fixture and Kearney, who joined Bradford from Cronulla in 2010, said the players welcomed the chance to relax.
"Mentally and physically a break is good for the players, it's good not to have to think about a game coming up," he said.
"To play all the games is very demanding. The salary cap has done what it was intended to - the teams at the back are getting closer to the teams at the front and there aren't any easy games.
"Throw in the Challenge Cup weeks, which are quite mentally demanding, and by the time you get to round 18 you can be pretty mentally drained."