Leeds Rhinos: Ben Jones-Bishop to return after blood clot
Last updated on .From the section Rugby League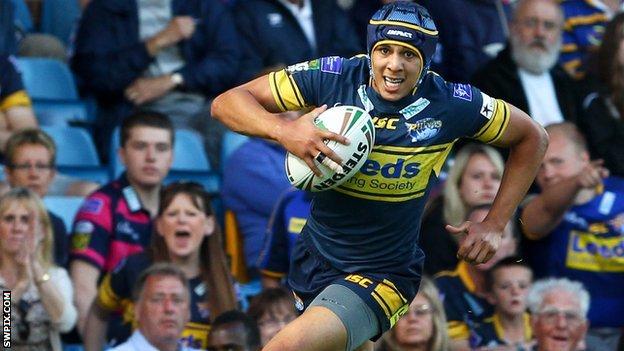 Leeds winger Ben Jones-Bishop has been cleared to return to action after being out since Christmas because of a blood clot on his lung.
The 24-year-old is scheduled to play against Widnes Vikings next Monday.
Jones-Bishop, who scored 23 tries and played in three finals last season, has completed his course of treatment.
He told the club website: "It has been a tough six months. It has been a case of waiting and making sure I am in tip top condition before coming back."
Jones-Bishop was told he had a pulmonary embolism when he went for what he assumed was a routine scan on Christmas Eve after struggling in training.
"Easter was the worse point for me," he admitted.
"Initially we thought I could be back playing after three months and I was preparing to face Warrington at home the week after Easter, but when the specialist said it was another 12 weeks before I could play it was shattering.
"[Rhinos head coach] Brian McDermott and [conditioner] Jason Davidson were great with me, they allowed me to take some time off and get away for a couple of weeks and my focus since then has been on being right to play Widnes."
Jones-Bishop added: "I owe a huge debt to our conditioners Jason and Richard Hunwicks, not only because they spotted the problem initially but they have spent hours with me, long before or after the rest of the boys had been training, to keep me motivated and making sure I am ready to go once I got the all clear.
"A big motivator for me has been the fact I have been smashing my previous bests in terms of fitness and it shows how much the condition was holding me back.
"From my understanding, it would have been the equivalent of a heart attack for my lungs, so another couple of tough sessions back then could have disastrous for me."