England v Exiles: No easy World Cup warm-up - Steve McNamara

Last updated on .From the section Rugby League38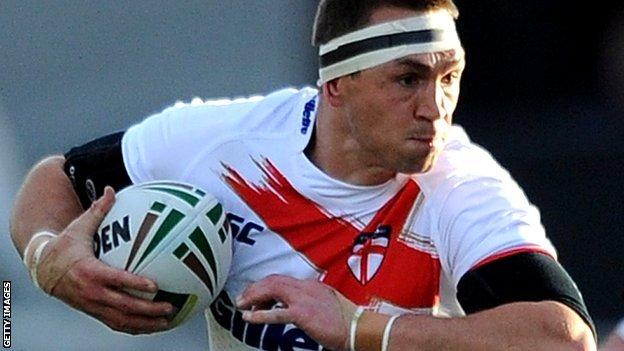 In the absence of a touring Australia or New Zealand side, the international Origin match against the Exiles offers the most competitive game England could hope for ahead of the World Cup.
Captain Kevin Sinfield has warned his team they will be "burned" if they treat the fixture either as a week off from Super League or a warm-up ahead of the big international event at the end of the season.
Looking at the team picked by the Exiles - a selection of the best overseas players in Super League - it is a side I can see posing England problems. Listening to Brian McClennan's squad in camp this week, you can feel how much they are up for it.
It is a fixture that will never be able to match the ferocious intensity of an Australian Origin series, but it will be fiercely contested.
"It's about how much you want to win for the jersey and your mates," says veteran Steve Menzies who will line up at centre for the Exiles.
"It is like a State of Origin (between Queensland and New South Wales), playing with the best against the best and if you can't get passionate about this, what can you get passionate about?"
McClennan says his team is "explosive and big" and warns England to be wary of his "massive man" Trent Waterhouse. The former Rhinos coach believes he has one of the league's form forwards in Sia Soliola and expects the pack to cause England coach Steve McNamara a headache.
He says his team will do whatever it takes to win and believes his opposite number has selected a "very exciting squad", highlighting the kick-return threat posed by Sam Tomkins, Ryan Hall and Josh Charnley. The Exiles won this fixture last year and will expect to win it again.
England captain Sinfield's considered, ice-cool demeanour does crack a furrowed brow if you label this a World Cup warm-up match.
"It'd be totally unfair to call this match a warm-up," says the Leeds skipper. "It won't be a warm-up. And those people who think it is a warm-up are welcome to step out there and have a taste of it. It will be physical, fast and one of those where your legs and lungs are burning. It'll be as tough as any Test match."
McNamara himself is becoming increasingly irritated by those who question his selections. "I'm sick and tired of talking about it," he said on arrival at Loughborough for England's training camp this week.
Every time I speak to McNamara, he talks about trust and confidence in a squad he calls a "brilliant group of players with a fantastic opportunity".
Squads named by national coaches of every sport are subject to criticism simply because of the tribal nature of sport. McNamara knows he will ultimately be judged on England's performance at this World Cup and will no doubt feel he should be praised or criticised after that, not before.
"Fans from each club watch their team and are blinkered," he says. "They see their players each week. I see every player every single week and get opportunities to make decisions based upon that."
McNamara will be BBC Sport's live studio guest on 5 live Rugby League from 21:00 BST on Thursday.
In terms of this England squad, Exiles skipper Brett Hodgson feels it is the "best England have to offer". That's not really the case given injuries to Wigan captain Sean O'Loughlin and Rhinos centre Kallum Watkins, who continues to attract interest from Australia. There is also the Aussie-based contingent led by Sam Burgess and James Graham to join the party too.
The harsh truth is though that if this England squad is well beaten by the Exiles, McNamara will have an even biggest task to convince the pre-World Cup doubters that his team is the real deal.
Superman and super stopper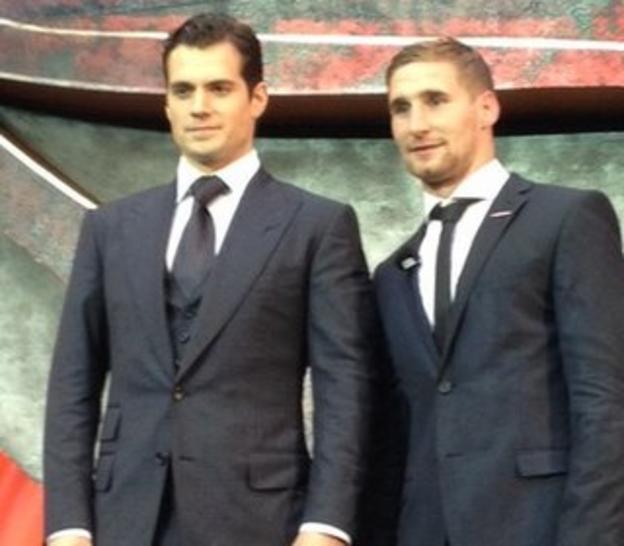 A couple of his key men have enjoyed rather unexpected preparations for the game.
Man of Steel Tomkins found himself on the red carpet this week courtesy of Sky Sports, interviewing Man of Steel film actor Henry Cavill.
A great bit of publicity for the sport also had a nice moment when New Zealand-born Australian actor Russell Crowe attempted to discuss Tomkins's own NRL future on air - but the full-back shrugged it off.
Veteran prop Adrian Morley meanwhile has been moonlighting as a goalkeeper. "Moz" found his nickname change to "Big Nev" (after former Wales keeper Neville Southall) following a commanding display between the sticks in a charity football match last weekend.
He admittedly conceded six goals, but saved many more. He also scored from the penalty spot in our 6-5 defeat to an All Star team led by Tyrone from Coronation Street.
Alongside cameos from Paul Merson (he's still got it) and Peter Reid (he arguably hasn't) were impressive efforts from Warrington trio Chris Riley and Stefan Ratchford upfront, and a resolute Micky Higham at the back.