Salford City Reds owner Marwan Koukash wants football club
Last updated on .From the section Rugby League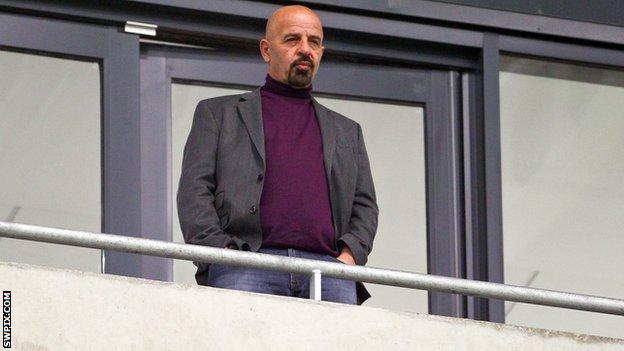 Salford City Reds owner Dr Marwan Koukash has said he is looking to take over a football club.
"There is a club I'm looking at which hopefully we will be able to secure within the next month or two," he said.
"I'm not going to reveal which club it is but it will complement my interest in racing and rugby."
The 54-year-old told BBC World Service: "Before I got involved in racing I was at the point where I nearly completed the purchase of a Championship side.
"I had quite a lot of success early on to the point where I put football aside and concentrated more on racing, and now I'm looking for a new challenge."
Salford were on the brink of administration when the Liverpool-based businessman took over and he quickly made changes at the club replacing Phil Veivers with ex-Great Britain coach Brian Noble, and also calling for the Rugby Football League to increase the current salary cap of £1.8m.
Koukash failed with ambitious bids for England trio Sam Tomkins, Adrian Morley and Rangi Chase in the opening weeks of the season but is hopeful his changes will come to fruition next season as they currently sit bottom of Super League.
"The particular club we're looking at the remedy for it is there," he added. "It was a huge club previously and it just needs that little bit of extra investment to take it to the next level.
"By bringing in the personnel that were previously associated with the club at its heyday and bringing people in who are genuine club supporters it will excite the fans.
"Once I get the football club I will definitely have my own TV channel which will cover my three sports; racing, rugby and football."