Women's World Cup: England lose to Australia in opener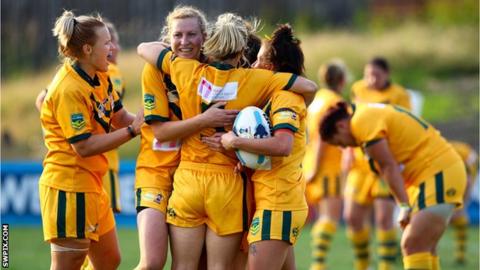 England were beaten 14-6 by Australia in their opening match of the Women's World Cup in Dewsbury.
Samantha Hammond scored two tries as Australia raced into a 14-0 lead.
Lindsay Anfield scored a late consolation try for England, who had Rachel Twibill and Andrea Dobson sent to the sin-bin in the second half.
England head coach Chris Chapman said: "It was disappointing with the high penalty count against us but I'm very proud of my team."
In the other game, New Zealand thrashed France 88-0, including five tries from Honey Hireme and a hat-trick from Karley Te Kawa.
England play New Zealand in their next match on 8 July.