Challenge Cup: Sheffield Eagles have winning habit - Mark Aston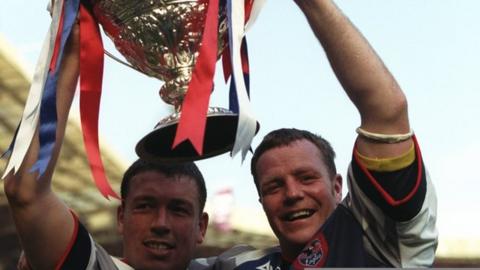 Sheffield Eagles coach Mark Aston has said his side's recent form could give them the edge over London Broncos in the Challenge Cup.
The Eagles are on unbeaten in 15 games and sit top of the Championship, while the Broncos are bottom of Super League.
"They're full time and they should be expected to win," he told BBC Radio Sheffield.
"But we're used to winning and they're used to losing and no one has beaten us at the Don Valley this year."
Aston added: "When you've got to dig deep it's that togetherness and that will and that want that matter and you get that from winning.
"We've been waiting six weeks for this and I know the players have subconsciously been looking forward to it. We've got the inner belief and we've got the momentum."
In contrast to the Sheffield side, who won the Championship Grand Final last season, the Broncos have not won since a 25-16 success over Bradford in the last round of the cup in May.
Aston won the Lance Todd trophy for man of the match when the Eagles won the competition in 1998 and says there are similarities between the two sides.
Sheffield pulled off one of the great Challenge Cup final shocks to beat favourites Wigan 17-8 at Wembley.
"The last month has been tough because we haven't been great and we haven't been hitting the straps," he said.
"You talk about defences winning the game and when we won at Wembley Wigan scored eight points because players just put their bodies where they had to go and we've had that over the last couple of weeks.
"They've put their markers down and defending can be key."
You can hear BBC Radio Sheffield's Sheffield Eagles special on iPlayer until Monday, 15 July.