Women's Rugby League World Cup: England beat France 54-0
Last updated on .From the section Rugby League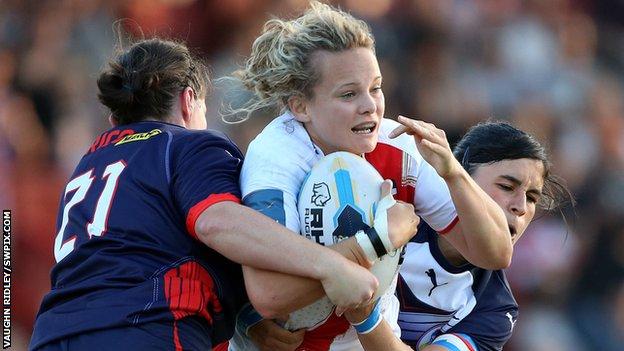 England secured third place at the Women's Rugby League World Cup with a 54-0 win over France at South Leeds Stadium
Clare McGinnis was the hat-trick hero this time while Natalie Gilmour and Jodie Cunningham each scored two tries.
In Sunday's final at Headingley, Australia ended New Zealand's dominance with a 22-12 win.
New Zealand have won every tournament since its inception in 2000.
"It feels amazing, all the hard work the girls have put in leading up to this World Cup has paid off," said Australia head coach Paul Dyer.
"We had 23 players who came across here to England and they have all got the job done."
With England leading 48-0, France's Houita Ben-Choug was sin-binned after fighting broke out between the two teams.
The defeat leaves France without a win from their four matches. They lost their opener 88-0 to New Zealand, they were then beaten 72-0 by Australia before England completed the double.