Super League: London Broncos call for 'fair' restructure
Last updated on .From the section Rugby League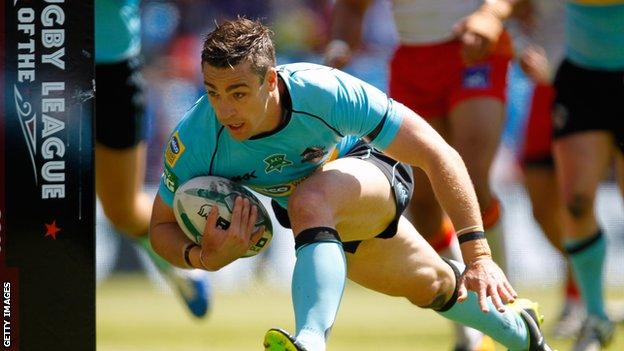 London Broncos chief executive Gus Mackay says the Rugby Football League must make informed decisions when restructuring Super League.
"There has to be a fair process of how you get to that final 12," Mackay told BBC London 94.9.
"The areas which need to be considered are the finances of the club, the performance on the field, your youth performance and your facilities."
He added: "Those four areas have to be taken into consideration because then it is fair for everyone.
"You could have a situation where if you have injuries, you could finish 13th and then not be in the 12 the following year.
"We are very mindful of that and we will see what comes of the final structure."
Changes to the competition structure were agreed by Super League clubs at their annual general meeting in Bradford last week.
After what RFL chief executive Nigel Wood described as "a robust and frank debate", clubs ruled out reducing the number of sides from 14 to 10 and asked the RFL to look at two options.
One involves a 12-team Super League running alongside a 12-team Championship that would split after 23 rounds into three groups of eight, while the other option is for two divisions of 12 with promotion and relegation.
With a final decision to be made later in the summer, Mackay says he will do his best to protect a London presence in rugby league's top flight.
"This refocuses us and makes us think about where we are going to be and makes you want to be in that 12," he said.
"We think it is very important that Super League is in London, as I'm sure a lot of people in the game do.
"All the work that has gone on with our youth development and investment needs to be thought of as well, but it is going to be tough.
"We will be doing everything and fighting to do it.
"If you are not in it, promotion and relegation does give you a bite to come back into it. We need to ensure we protect our brand and our youngsters coming through.
"Half of our squad is London kids, which is brilliant. We want them to be playing Super League."
Meanwhile Mackay says the club are still working on where they are going to stage their home games next season.
The Broncos are set to leave the Twickenham Stoop, where they have played since 2006, at the end of the season.
"We are in discussions with a venue where hopefully we can get something out of it," he said.
"It is important we nail it down as soon as possible. It has dragged on and there is a focus on getting that done but it is not as straightforward as everyone thinks."