Cornish Rebels ready for historic South West Cup final
Last updated on .From the section Rugby League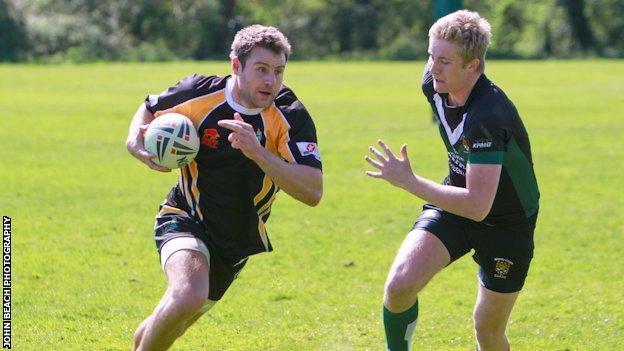 Cornish Rebels chairman John Beach says his side's appearance in the South West Cup final is a significant step forward for rugby league in the UK.
The Rebels face Devon Sharks at Polson Bridge on Saturday to become the first Cornish side to compete in a rugby league final.
"It's a massive day for rugby league as a sport and for Cornish rugby," he told BBC Radio Cornwall.
"I can't stress enough to the boys how proud they should be."
The Rebels are already making history after forming this year, and top the league table after a dominant campaign.
"It just shows the commitment and the skill level of rugby players in Cornwall - whether that's league or union," Beach added.
"There's a real passion for rugby in Cornwall. We're trying to get people playing rugby 52 weeks a year and I think that will be beneficial for everybody.
"For it to be our first season and to get in our first final so quickly is an amazing feat.
"The boys are all really up for it and hopefully we can come away victorious.
"We've played Devon Sharks twice and beat them twice, they're a tough outfit and very strong in the forwards.
"They're a very young side and inexperienced. It's going to be tough game - high temperatures will take their toll and I think the winner will be whoever adapts to the temperatures the best.
"To play on Cornish soil gives us a bit of an edge and I hope we get a decent crowd to the ground at Polson Bridge.
"Substitutions might be key to keep players fresh. We've been a physical side throughout the season and so have the Sharks, so it should be quite tasty for the spectators."