Brian McDermott: Rugby league developing in London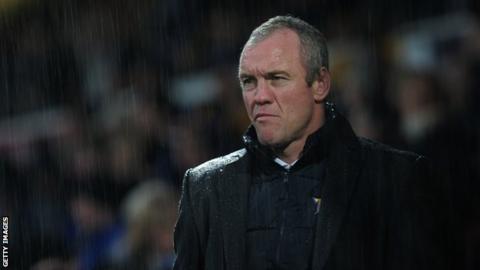 Leeds coach Brian McDermott believes the game in London is progressing despite London Broncos' struggles.
The Broncos are currently bottom of Super League and are searching for a new home venue for next season.
He told BBC London 94.9: "The only element of London rugby league that is struggling is the professional team.
"I spent nearly five years at London and got heavily involved with the youth set-up. I am more than aware of how much progress is being made."
He added: "There are some hard yards being made by some amateur and junior clubs.
"Given the improvements that those particular clubs have made in the last five to 10 years, you can only see that as a positive."
With a restructure of the game on the horizon in 2015 and Super League set to be reduced to 12 clubs, McDermott thinks the Rugby Football League should continue to encourage the growth of the game in the capital and the south of England.
"There is unbelievable potential and it is very exciting," McDermott continued.
"Quite often if we didn't get the result when I was coaching Harlequins RL we would console ourselves with [the fact that] there are a lot of good things happening with kids and staff that are working so hard in London.
"The professional team struggle. Financially it is not what it should be and that is because of various reasons.
"I hope that if any decisions and judgements are being made, they are not made by ignorant people who don't know enough about what goes on in London."
Former London Broncos player Steele Retchless, who holds the record for the most appearances for the club, agrees with McDermott that the younger crop of players at the club are showing promise.
"What I love about where the club is heading now is the development of younger players coming through," Retchless said.
"I watched some highlights of the under-19s recently and I was really impressed with some of the young lads.
"I hope the club can hang on to these guys and help develop them.
"If we can improve next year and bring these young guys through and build that grassroots level then the game can still have a healthy foothold in London."
London Broncos are yet to finalise where they will be playing their games next season and owner David Hughes admitted before the Challenge Cup semi-final defeat to Wigan that "big decisions" had to be made about the club's future.
"There is some stress on the place, no question," head coach Tony Rea told BBC London 94.9.
"When the bombs are going off around you, you need to make sure you are focused, driven and it is something worth fighting for.
"Everyone is thinking it could pretty clearly go one way or the other.
"One's a horrible way, which is something we are all worried about, but it could go a really fantastic way and that's what really excites everybody.
"It is probably why the decisions take a long time to make.
"You have got to have a plan at every level to be a really good flagship club. That's what we aspire to be.
"I don't want any decisions going forward that are just for survival. I want us to make them to be great."