Chad Randall: London Broncos hooker announces retirement
Last updated on .From the section Rugby League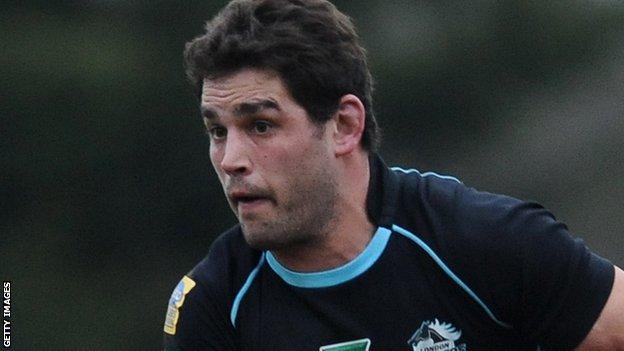 London Broncos hooker Chad Randall has announced he is retiring from rugby league at the end of the season.
The Australian told BBC London 94.9: "At the start of the year we were definitely talking about doing another year but then my injury came and the club told me they didn't want me.
"I'll always look back on my time with fond memories."
In total Randall made 197 appearances for the club following his move to Super League from NRL side Manly Sea Eagles.
He says reached a decision with his wife to return to Australia at the end of the year.
"I still feel I could probably play some more rugby but that is the way we have chosen it," he said.
"It's more of a family decision. We sat down and thought if we were going to take the kids out of school then we might as well take them home."
Randall is one of a number of players set to leave the Twickenham Stoop, with the Broncos due to announce several departures after their last home game of the season on Saturday.
Prop Mark Bryant,outside back Luke Dorn and utility back Chris Melling have already announced they are leaving the club.
Randall's retirement comes with him just five appearances short of the club's all-time record, which is held by Steele Retchless.
"If there were another five games in the season I probably could have played," he said.
"My leg is pretty good now but I haven't been rehabbing it too intensely as I knew I wouldn't be able to play again this year.
"I'm in good company there with Steele and Rob Purdham. You are always aware of how many games you have played and what is coming up next.
"But I am just pleased I got to around 200 games.
"I feel I have been a good servant to the club and I am a loyal guy so I am happy about that."
The south west London club have struggled in the past two seasons but Randall says the period previous to that was a highlight of his time in Super League.
"We had some really good years with a team that was probably worth only half the salary cap," he said.
"We had such a good bond through 2008 and 2009 and really pulled for each other and get some good results. We played some great footy over the years and had some great times.
"Brian McDermott was a big part of my career. He was a great coach and really brought the best out of me.
"The last two and a half years have been really tough.
"We have put so much pressure on ourselves to win and it affects everything and puts strains on your relationships.
"With the desire and everyone badly wanting to win it has almost created a negative feel but there are things within the club that are getting done and there are some amazing athletes in the junior system."