Challenge Cup: Hull FC heroes recall Wembley 'curse'
Last updated on .From the section Rugby League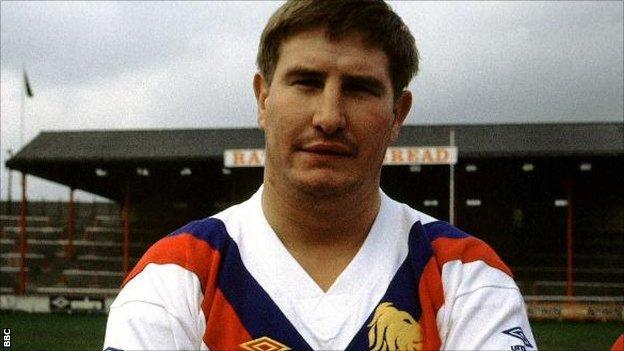 Former Great Britain international Lee Crooks feels the agony of Hull FC's Wembley 'hoodoo' more than most.
Not only did Crooks play in three finals at the grand stadium for his boyhood team, he also holds himself responsible for their defeat in one of the greatest finals of all time.
Wigan edged the Airlie Birds under the old Twin Towers in 1985's 28-24 classic, although captain Crooks failed to convert any of Hull's five tries, landing two penalties to fall agonisingly short.
"The unfortunate thing for me was that I didn't often miss goal-kicks in games, and on that day I did," Crooks told BBC Sport.
"To get beaten was tough, and I missed those conversions which was the difference between winning and losing."
Another player to share the Wembley jinx was Great Britain centre Steve Evans, who also appeared in three deciders with the Black and Whites.
Evans, who was preferred to Garry Schofield and scored to give Arthur Bunting's side hope in that Wigan epic, still feels the despair of missing out that afternoon despite a brave fightback from 28-12 down.
"I do think the Wembley final against Wigan had a bit of everything," he said.
"As a Hull player you felt a bit short-changed, we set off like a house on fire, then Wigan blitzed us, then we came back and you just felt if it had gone on another five minutes longer we might have won.
"It was the most disappointing thing - we thought we didn't have enough to finish them off and we'd let ourselves down in the middle of the game."
Having lost out to city rivals Kingston Rovers at the turn of the decade, the club and the pair of Crooks and Evans were eventually successful against Widnes in 1982, lifting the trophy in a replay at Elland Road.
Crooks had to be patient for his opportunity, but when it came he took it with both hands.
"Getting to the final [in 1982] and missing out on starting was a disappointment but certainly a learning curve," Crooks added.
"I had to sit on the bench for a fair part of the game, getting up to warm-up and then having to sit down again, but actually getting onto the field was absolutely fantastic.
"The rest is history, I managed to get Dane [O'Hara] in for the try that levelled the scores, and I managed to play well enough in the Premiership final the week after to get a place in the starting line-up for the replay at Elland Road, it was a fantastic year for me and the rest of the players."
The next few years were to prove bittersweet for both players, as a star-studded Hull side seemed to come unstuck in the Challenge Cup - always at the final hurdle.
Despite the presence of Kiwi stars Gary Kemble, James Leuluai, O'Hara and Fred Ah Kuoi, the Australian playmaker Peter Sterling and GB internationals Crooks, Evans and the inspirational Steve 'Knocker' Norton, the cup eluded them.
Featherstone were the underdogs in 1983, but stunned Hull in another famous final.
"Unfortunately we went to the game far too over-confident," Crooks continued.
"Featherstone were languishing at the bottom of the first division, we'd just been crowned champions and our approach to the game wasn't as good as it should have been.
"That's not taking anything away from Featherstone, but that's why we were beaten."
Having left Featherstone for the Boulevard the previous season, and picked up a winners' medal in the process, Evans came up against some familiar faces - none more so than brother-in-law Gary Siddall.
"My sister's husband was playing opposite," he said.
"They got their tactics right on the day, we had our scrum-half Kevin Harkin carried off and that played into their hands.
"But they had a very hard, workmanlike pack, and some undervalued players outside who could score any moment and a reliable kicking game."
Bunting's exit as coach after the 1985 season coincided with an end to Hull's on-off love affair with the cup, while both Crooks and Evans were eventually to move on to Leeds and Bradford respectively.
Wigan went on to deprive Crooks of his fourth and final bid for Wembley glory when they defeated his Castleford side in 1992.
As fate would have it, Wigan will stand in the way of the Hull class of 2013 in Saturday's final.
It will be the third time the two clubs have met at the last stage, after Wigan's successes in 1959 and 1985.
"You tend to have a feeling about certain things when it comes to Wembley, and this year I think is Hull's year," Crooks added.
"I had a feeling from the start of the season that it would be a Hull-Wigan final, it's turned out that way.
"The way the team has responded in the cup, at Catalans and then in the semi-final against Warrington, that perseverance and doggedness to defend their own try-line will stand them in good stead on Saturday."
Crooks' own son Ben has been named in Hull coach Peter Gentle's squad, having recovered from an ankle injury that threatened to end his season.
With 20 tries in 21 games this term, the England academy three-quarter has been tipped as a contender for young player of the year and for senior international honours.
"There's a lot of symmetry between us to be fair, he's done a lot of things that I did similarly at the club and this year's been fantastic for him," Crooks senior said.
"When people start talking in the media that he's good enough to play international rugby you know you're going down the right lines."
Some great names have tried, and failed to end Hull's Wembley torment. The Crooks family could go a long way to ending years of hurt with victory on Saturday.