Rugby League: Cornwall revel in Origin match win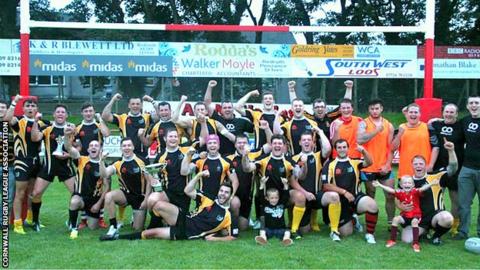 Cornwall Rugby League secretary Rob Butland has hailed the County of Origin clash with Devon as "a great advert for rugby league".
A late try from Cornwall full-back Matt Shepherd clinched a 36-26 victory for his side in Redruth.
"It was a fantastic game of rugby. We couldn't be prouder," Butland told BBC Radio Cornwall.
"It was a great night. It could have gone either way but we managed to pull away at the end."
Butland added: "Every player played outstandingly, there wasn't a bad performance on the pitch.
"There were huge tackles and some hard running and it was just a great advert for rugby league."
Shepherd scored the first and last tries of the match and kicked six conversions for a personal tally of 20 points.
"It was a great performance from him but we had 13 guys on the pitch, a squad of 20 and every one of them put a real shift in," added Butland.
Cornwall: Matt Shepherd, Alex Ducker, Aaron Hunt, Guy Pallett, Ashley Taylor, Paul Saberton, Andy Webster, Ethan Pattison, Jono Jones, James Ford, Ashley Lawton, Martyn Lawrance, Kye Beasley (Capt) Subs: Matt Williams, Martin Middlewood, Steve Homer, Scott Marshall, Grant Thirlby, Jake Butcher, Darren Pellow.
Tries: Shepherd 2, Williams, Marshall, Ducker, Pattison
Cons: Shepherd 6
Devon: Ozzy Flowers, Ed Powell, Joe Briggs, Nathan Barnes, Manoa Cakacaka, Billy Stockwell, Alex Ford, Dec Sexton, Alex Stevens (Capt), Russell Morris, Stuart Lovick, Nick Wolley, Dave Walter Subs: Scott Galloway, Nigel East, Shaun East, Jack Carlisle, Ben Tharme, Ben Cowley, Rob Ede.
Tries: Morris, Wolley, Briggs, Flowers, Ford
Cons: Stevens 3
Referee: Chris Symons