Gareth Ellis: Hull FC skipper on the magic of the Challenge Cup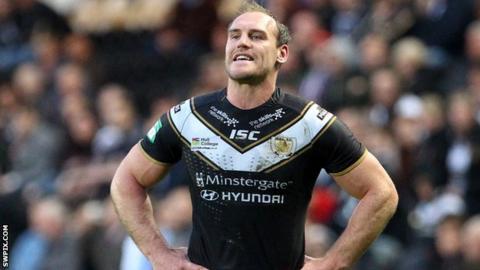 Challenge Cup final: Hull FC v Wigan Warriors
Venue:

Wembley

Date:

Saturday, 24 August

Kick-off:

15:00 BST

Coverage:

Live coverage on BBC One HD (14:15-17:15) and BBC Sport website, live commentary on BBC Radio 5 Live, BBC Radio Manchester & BBC Radio Humberside
These are the weeks that every player wants to be involved with. To be preparing for a Challenge Cup Final at Wembley is every boy's dream and to realise it now is a very special feeling.
I am fortunate enough to have played in one already in my career. In 2005 I was part of the Leeds Rhinos that lost, ironically, to Hull FC at the Millennium Stadium in one of the most memorable finals ever.
The only other game that comes anywhere close to that in my mind is the 1985 final, which I remember watching as a young lad. Of course the two games on the Wembley pitch that day were Wigan and Hull. Hopefully, this weekend will be a similar match and a great showpiece for rugby league. But with a different final outcome of course!
At the point of writing this piece, we had just finished our final team training session on home soil and were en route to London.
We were very lucky that the club put on an event for our families before we left at lunchtime on Thursday as well as a send-off with the fans from the KC Stadium, which was quite extraordinary. There were thousands of them! I'm sure there were a few puzzled bosses wondering why their staff didn't come back from their lunch break, but that commitment from our supporters is what makes them so special.
The support at the semi-final against Warrington was unbelievable, it helped make it one of the proudest days of my career and certainly a special day to lead the side. After that, hundreds camped out overnight to get tickets for the final, whilst I'm told over 60 coaches will be leaving Hull on Saturday morning to head down to Wembley.
As we pulled out of Hull earlier, we passed a banner that one of our sponsors has put up saying 'Last one out of Hull, turn off the lights!' I remember hearing about something similar years ago and now I'm here I can see exactly what it means. The city will be a ghost town on Saturday afternoon.
Hopefully we can go down there and do the job for them this weekend. It's a moment we're all looking forward to and we will work our hardest to get the win. Wigan are a very good side with some great players and understandably they have been made favourites. Having said that, we know we can match anyone, we showed it in the semi-final against Warrington and came very close to beating Wigan in the league.
It will be a very close game I'm sure and a fantastic spectacle for the game. The Challenge Cup is still very special to all of us and we can't wait for kick off.