Wigan Warriors: Salford's Jordan James to join coaching staff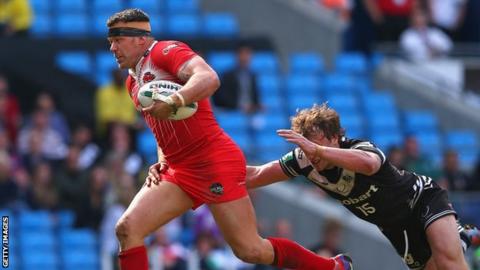 Salford City Reds and Wales prop Jordan James will join Wigan's coaching staff at the end of the 2013 season.
The 33-year-old will complete his contract with the Reds and is likely to represent Wales at the World Cup later this year before taking his new role.
James, who played for the Warriors earlier in his career, will help to develop young talent in Wales.
"Wigan is a massive club and to be offered a chance to work for them was an easy decision to make," he said.
James told the club website: "They are the best at what they do and to learn under their coaching structure as an aspiring coach is the best opportunity you can possibly have."
Iestyn Harris, Wigan's assistant coach and also the head coach of the Welsh national team, added: "Jordan has been an integral part of Welsh rugby league on the field for the last decade.
"To now have Jordan sharing his experiences and knowledge to the younger generation of Wales in a coaching capacity is very pleasing."