How Huddersfield Giants finished top of Super League

By Ian Millward
Ex-Wigan, St Helens and Castleford coach on BBC Sport
Last updated on .From the section Rugby League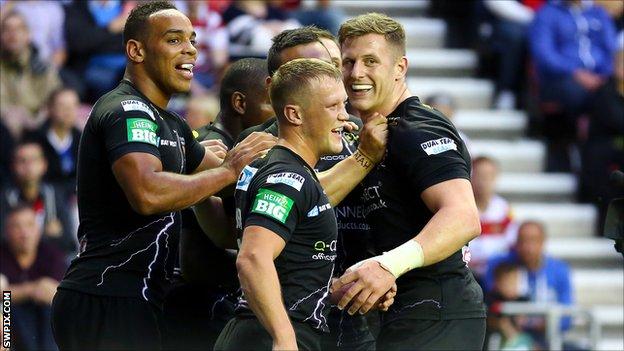 Little over 12 months ago, Huddersfield scraped into the Super League play-offs in seventh place, on the back of just four wins in 15 games.
Their play-off adventure was over within 80 minutes, a
What a difference a year makes.
On Sunday, the Giants clinched the league leaders' shield to finish top of the rugby league pile for the first time since 1932.
So what has been the difference?
Former St Helens, Wigan and Castleford coach and Super League Show pundit Ian Millward has highlighted the key areas behind the upturn in form during the 2013 campaign.
The coach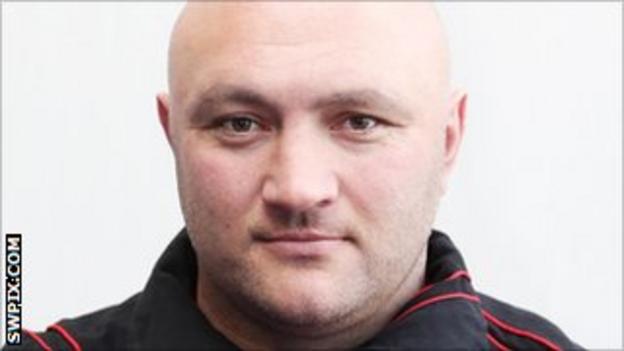 "I coached Paul Anderson at St Helens, he's a very direct person and there are no grey areas.
"That said - he was in a very good position when Nathan Brown left. Paul was assistant coach before so he was able to see the good things at the club and what he would have to change in terms of recruitment and strategy.
"He's definitely put his stamp on the club but he's had some good players to work with."
Consistency and fitness
"Huddersfield are a tough team and have been rewarded for being the most consistent side in the division.
"The coaching staff at the Giants have got the best out of the players week in, week out and it's no coincidence that every player in their squad is fit and available.
"They have had no major injuries and no injuries to what you call the spine of the team - the full-back, two halves and hooker. There has been continuity there and they have been very consistent in that area.
"Look at St Helens, they've lacked a scrum-half and they have had James Roby [at hooker] out all year. You put those players in there and it's the difference."
The pivots
"Kevin Brown left [to join Widnes] but the Giants didn't have to buy anyone because [hooker] Shaun Lunt came back [from his loan spell at Leeds], so it didn't take any time to bed players in.
"The upside is that Lunt has come back a better player and Luke Robinson has gone back into the halves.
"This year, Danny Brough's kicking game has been outstanding and he's really keen to play on his left-hand side to link up with Brett Ferres.
"Ferres has been extremely good and while Luke O'Donnell [who left for Sydney Roosters in the NRL] is very good, Ferres is a good attacking player.
"I think Brough and Robinson are as good a pairing as anyone in the Super League but the test will be whether they can take it to another level in the play-offs."
The pack
"The pack is strong. They recruited some bigger forwards like Craig Kopczak and they create the platform for players like Brough and Robinson.
"Last year they went for more mobility and more versatile players, and ended up playing centres in the second row, even sometimes second-rowers in the front row and vice versa.
"The reason Eorl Crabtree has had his best season is because he's played longer minutes, and by playing longer minutes it's given him more confidence. Because he's one of their stronger players it has made their team better as a result."
Tactics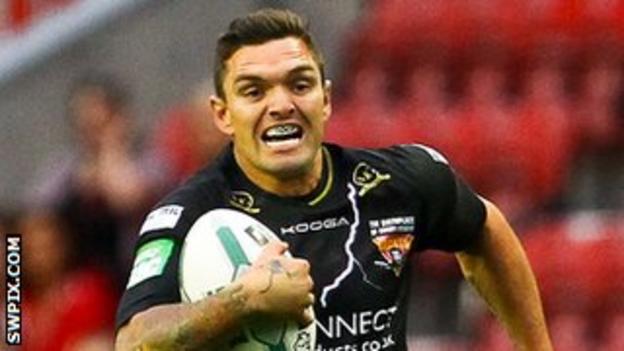 "Huddersfield have simplified their attack a little bit, made themselves more direct. They were very lateral under Nathan Brown.
"They play on a surface at the John Smith's Stadium which is great, whether it's wet, snowing or whatever, and it complements a team that have speed - which they do - and are direct.
"They get on top of you very quickly, and because of that they get off the back of a really good kicking game.
"They win the field position battle really quickly on you, and if you win the field position then you can be a lot more aggressive in defence."
What about the play-offs?
"By finishing first, it's like Formula 1 - they give themselves a chance to jump straight out in front with a win in the play-offs.
"They've always been a force - don't forget they've been in the play-offs the last four or five years now - but they've always been pretenders rather than contenders.
"To me, I wouldn't have them winning Super League. I think Warrington, Wigan and Leeds come into that category.
"What helps is their big, strong forwards and their directness in play, and from that they rely heavily on Brough to finish off with a good kick.
"But if they get outmuscled or don't get the kick away then they will lose momentum. I think their halves are very good but there is a question mark - are they good enough to steer their team to Super League success?
"They're not my selection, far from it. I'm not sure if the key players are good enough to win them the competition."