St Helens: Jon Wilkin 'making sacrifices' for club in new position
Last updated on .From the section Rugby League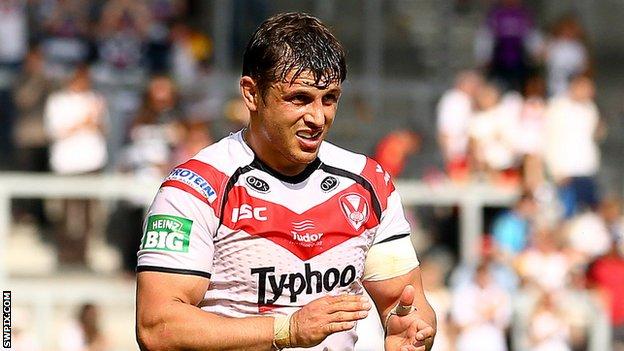 England international Jon Wilkin says he is happy to be a versatile member of the team for the good of St Helens.
With the Saints squad depleted by injuries for much of the season, the forward has filled in at half-back.
"It's about what's best for the club and I'll do that, whether that's good for me or not," said the 29-year-old.
"It's what being part of a team is all about - sacrificing your own personal interests for the rest of the lads because you care about them."
Wilkin, who has told BBC Radio Merseyside: "It's been a challenge but I think I've been reasonably happy with my form and I've contributed to the team.
"Is it my best position? I'll let other people probably say 'no' for me, as they tend to do.
"I think I've got some skills and attributes that mean I can play in a number of positions. I've made a commitment in my playing career to St Helens and it's not about what's best for me."
Nathan Brown's side have and host local rivals Warrington Wolves on Friday.