Jamie Soward: More English players should move to NRL
Last updated on .From the section Rugby League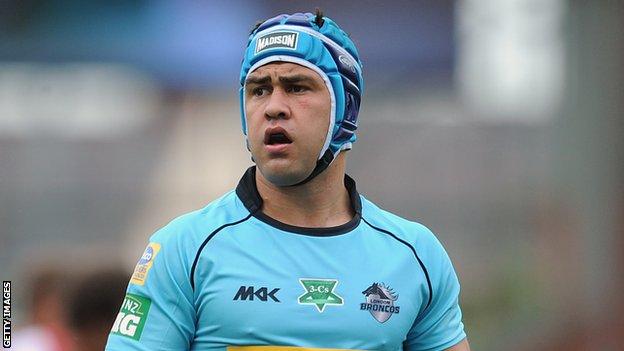 Outgoing London Broncos half-back Jamie Soward has encouraged more English players to move from Super League to the NRL in Australia.
The 28-year-old plays his last game on Sunday before moving to Penrith.
"There are a couple of guys here who could make it in the NRL.
"It would be nice to see a few more blokes take the risk like the Burgesses and get out there and test themselves in the Australian game," Soward told BBC London 94.9.
Sam, Luke, George and Thomas Burgess recently made history when they all appeared for South Sydney in their match against Wests Tigers.
Soward added: "One who stands out is [Broncos winger] Kieran Dixon. He has played fantastic for us although [he] probably needs a bit more size.
"I'd like to see him in the NRL, so hopefully he is keen to come to Penrith one day. I will definitely be singing his praises when I get back."
Soward joined the Broncos in June after he was released from his contract at NRL outfit St George Illawarra Dragons.
He has scored 51 points in eight games for the Twickenham Stoop side and has enjoyed his spell in Super League, despite playing in a struggling team.
"I have probably been relied upon a bit more on the leadership side of things over here. I have had to step up and fill that void of being in the halves and being able to tell people what to do," he said.
"The boys have been great with that and the forwards have taken it on board and done their job which has made my life easier.
"I can take that back to the NRL as I am going into a squad which is going to be a similar age.
"I will have to really step up and bring my leadership qualities, while also keep learning myself."
The Broncos are bottom of the Super League table, but could finish above Salford City Reds if results go their way this weekend.
Despite a testing season for the side and uncertainty about the club's future, Soward has seen potential in the squad.
"A lot of the guys are under 21 or 22. The performances haven't been there consistently, but that's what you do when you are young," he continued.
"The message I have been able to relay from the NRL is that you don't get a week off.
"These guys have all got potential. It is just a matter of consistently doing it week after week and then you can build a base."
Soward has hinted he would be interested in a return to London when his contract with Penrith Panthers comes to an end.
"I signed a four-year deal at Penrith and I was very happy to do that. I have to wait and see if I come back at the end of that contract," he said.
"Definitely, if the body is feeling good, I'd love to come back and play for London one day. This was the perfect fit for me. I've enjoyed it immensely.
"I have still got unfinished business in the NRL and crave being back in that system, but I wouldn't rule out a move back overseas at the end of my career."