Brett Seymour: Castleford Tigers sign ex-Hull FC half-back
Last updated on .From the section Rugby League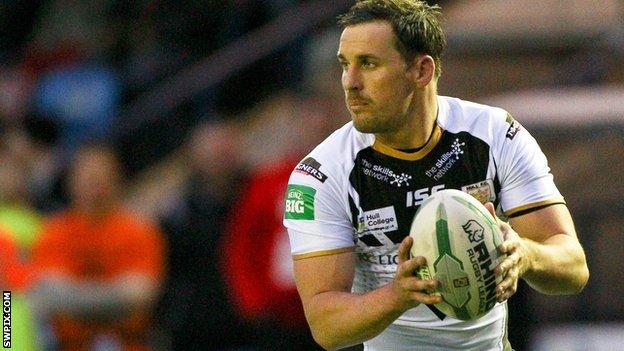 Castleford Tigers have signed former Hull FC half-back Brett Seymour on a one-year deal.
He told BBC Radio Leeds: "I'm looking at this as a fresh start.
"A one-year deal gives both parties a chance to look at each other and, if things are going well, I'm sure we can sort a new deal."
Seymour spent time at the Sporting Chance Clinic after his April departure from Hull FC.
He admits that he considered giving up the game completely.
"I thought about quitting at one point. I was very low and I won't get away from the fact," he said.
"I've addressed those issues and I'm taking each day as it comes and that's the way for me to look at life at the minute.
"I stopped loving what I was doing and I took for granted how good a life I had. I want to play for as long as I can now."
Tigers head coach Daryl Powell told the club's website: "Brett is a quality individual who I have been really impressed with after meeting him.
"He is excited by the opportunity of playing at Castleford and his game will be ideally suited to the way we want to play next year.
"I am really looking forward to working with him next season. I know that he has a lot to prove, but that brings out the best in people and I am confident that it will in Brett."
Earlier this month, Castleford lost England stand-off Rangi Chase to the newly named Salford Red Devils.
Seymour said: "Obviously losing Rangi Chase is a big blow because he's a one-off. He'll put Salford on the map but I'm sure the club will put plans in place to make up for that loss.
"I'm sure the fans will see the fruits of what Daryl is trying to do and, if we can get a good start, you don't know what might happen. The top eight is what we're aiming for."