Warrington Wolves: Tony Smith against 'Club Call' in play-offs
Last updated on .From the section Rugby League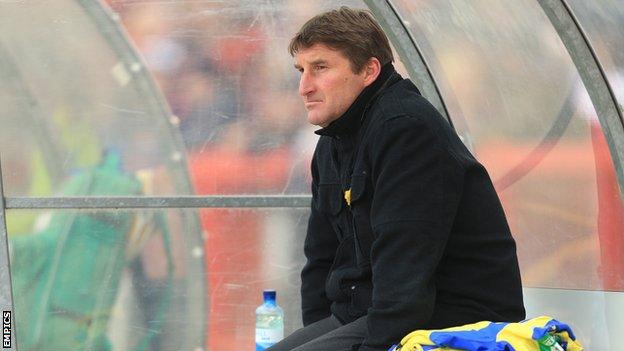 Warrington coach Tony Smith is against the 'Club Call' system that will allow the Wolves to select who they play in the last four of the play-offs.
The Wire are able to choose their semi-final opponents as they finished above other qualifiers Wigan in Super League.
But Smith told BBC Radio Merseyside he will not have an input in the decision.
"I'll turn up and coach the team to play whoever we decide as a club to play, but it certainly won't be anything influenced by me," he said.
"I'm not in agreeance with it, I don't think it adds to our competition.
"It makes it very difficult to explain how our finals work. It's already a complex situation and then you've got to try to explain that one club gets a call on top of that.
"For those who enjoy it, good luck to them, but like everybody else I'll probably get a text message telling me who we're playing."
As winners of the League Leaders' Shield, Huddersfield would have been granted 'Club Call' if they had beaten Wigan in their qualifying play-off.
meaning they must win against Hull FC to reach the last four, while 40-20 on Saturday to seal their semi-final spot.
The Wolves are hoping to reach the Grand Final for a second consecutive season, having
Former Great Britain coach Smith could have full-back Brett Hodgson and scrum-half Richie Myler back from injury for their semi-final, which will be played on Thursday, 26 September.
He added: "There are a few selection headaches and that's a great way to be at this time of year. We're in a good bill of health."