Tony Clubb: No regrets about critical London Broncos comments
Last updated on .From the section Rugby League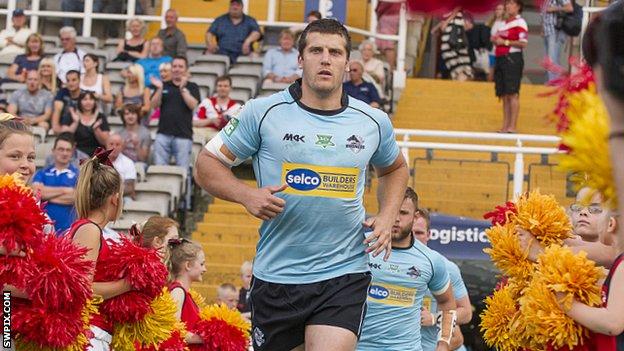 New Wigan signing Tony Clubb says he has no regrets about making his desire to leave London Broncos public.
Clubb, 26, told BBC London 94.9: "It was probably more frustration at the time but I don't regret what I said."
The England international's Broncos team-mate, Dan Sarginson, is
In 2014 they will swap London, who only avoided bottom spot in the table by for a Wigan side that and also
Financial problems dominated the 2013 season in the capital and, several members of the first-team squad - including hooker Tommy Lee [to Salford], utility back Luke Dorn and prop Scott Wheeldon [both to Castleford] - have departed.
"I was sick of losing," continued Clubb, who had a spell as captain of the Broncos last term. "It was the manner we were losing. I'll pick up on the Warrington game - to was embarrassing for me, for the players and for our fans.
"We had a bad season considering the players we had brought in over the past couple of years, we brought a new coach in, and how we finished the season before. I thought things were going to go well but it didn't pan out that way."
Although unhappy with the way his time with the Broncos ended, Gravesend-born Clubb added that he owes a lot to the club for helping his career.
"I'm thankful for what they've done for me as a player and a person, and I won't forget that," he said.
"If London weren't there, what would have happened? Thankfully they were. I was in the right place at the right time, London picked me up and now I'm moving to Wigan."