Leeds v St Helens: Lance Hohaia eyes repeat Headingley win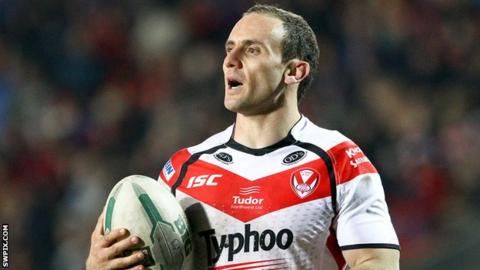 Lance Hohaia wants St Helens to be inspired by their recent record at Leeds when they face the Rhinos for a place in the play-off semi-finals.
Saints have won on their last three Super League visits to Headingley.
"It's a great ground, I enjoy playing there and I know the other lads do as well," he told BBC Radio Merseyside.
"You're always up against a classy side and we'll be testing ourselves against It's an exciting game ahead."
Speaking before Friday's preliminary semi-final, the 30-year-old continued: "From now on, it's sudden death for everyone. If we want to progress, we have to perform well and beat the reigning champions."
Saints were last beaten at Headingley in July 2010 and they with a there in May.
New Zealand international Hohaia scored one of eight tries as in their first play-off tie, while
Brown has admitted that he was unsure of how best to utilise the 2008 World Cup winner in the early part of the season, but the former Huddersfield coach believes Hohaia has been close to his best form in recent matches when paired with Jon Wilkin at half-back.
"He's a unique player in that there are lots of positions he can play and I don't think I was using him in the best manner to suit him," said Brown. "His form has been super lately and I think the style of play probably suits him better.
"When a player of Lance's capabilities isn't playing so well, it's not always the player's fault and it's not always the coach's fault. There can be a number of reasons that can cause that.
"In Lance's case - injuries, not quite the right style, maybe a lack of confidence - a combination of everything went against him.
"To his credit, he trained hard and was great around the squad when he wasn't playing. Now he's come back in, his body is fully fit and he's playing terrific."