Rugby League World Cup 2013: Can England win it?
By Paul Fletcher
BBC Sport
Last updated on .From the section Rugby League239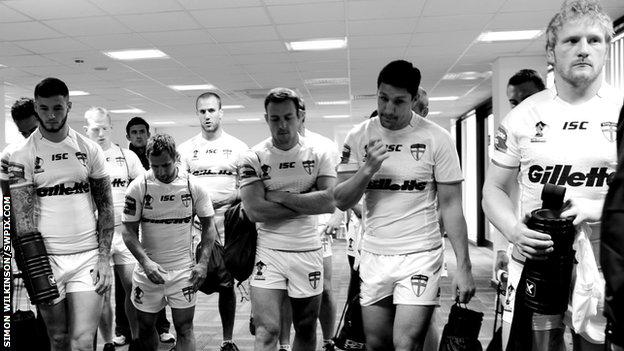 Anyone who saw England lose to Italy on Saturday in a warm-up game they were supposed to stroll would probably have a one-word answer to the above question - no.
If England cannot beat Italy what hope do they have against tournament favourites Australia, who they play in the opening fixture on Saturday?
Since 2008, England have played Australia five times, losing all of them and never finishing within 10 points of their opponents - who have quality throughout their side.
"Cameron Smith, Billy Slater, Johnathan Thurston, Cooper Cronk, Greg Inglis - they have loads of world-class players and we know what is coming," England skipper Kevin Sinfield tells BBC Sport.
"They seem to have a conveyor belt - when one retires another one just rolls off it."
Since a shock defeat on home soil by New Zealand in the 2008 World Cup final, the Kangaroos have won 17 out of 19 fixtures, a draw and a narrow defeat against the Kiwis the only blots on their copybook.
Australia have won the World Cup nine out of 13 times - and they want their trophy back.
"They are formidable and they are the team to beat," says England coach Steve McNamara.
Before losing to Italy, McNamara's team won six fixtures in a row, against Wales, France and an Exiles side made up of some of the best imports in Super League.
But they have not played either the Kangaroos or New Zealand - the sport's top two international teams - since 2011. When England walk out at the Millennium Stadium to kick off the World Cup, they will be taking a step into the unknown.

But discarding the sizeable bump in the road against Italy - and the removal of Gareth Hock from the squad for "serious breaches of team discipline" - there is an optimism inside the camp that the hard work done since McNamara stepped up from assistant boss in 2010 has given them a superb chance of upsetting the odds and winning the World Cup.
"It will be tough but we are capable," said McNamara. "I take great confidence from the work we have done over a long, sustained period of time."
The former Bradford Bulls coach found there were big issues to address when he took over - none more so than the identity of the team.
He added: "What was the England rugby league team? It was a new brand with no spiritual home, like Twickenham or Wembley."
The side still does not have a home ground but whenever they get together now it is at Loughborough University.
Ask McNamara about the blend in his 24-man squad and he will stress again and again how hard his coaching team have worked to build a "two-team mentality". By this he means that representing England is not just something players do at the end of a long club season - a last hit-out before a holiday - but a fundamental part of their identity.
Meaningless nonsense lifted from some management manual? Not according to Sinfield.
"It has long been said that it is difficult to unite players from different clubs in a national side, but we have spent so many hours, so many days trying to break down barriers," says the skipper.
"People who don't know us might look and think it is made up - just plastic, false - but to be part of it is really refreshing."
Perhaps this team spirit and togetherness can help carry the squad through the difficult moments, when they have to defend back-to-backs sets, when all they can see in front of them is a snarling line of green and gold.
"It might sound fuzzy to hear rugby league players talking about caring for each other, but I think this could be one of the big strengths of our group," adds Sinfield.
England's preparations for the World Cup featured high-altitude training in South Africa, using the same base they visited last year. It is the same site used by Spain for the 2010 World Cup. Last year, McNamara had the room used by Barcelona midfielder Andres Iniesta.

Of course, England could be the best prepared team in world sport, but without ability it would be pointless.
McNamara's squad has inevitably suffered injuries - the loss of Brisbane centre Jack Reed and Leeds second-rower Jamie Jones-Buchanan in particular - but they have five players steeled in the Australian National Rugby League to supplement those from Super League.
"The ones in the NRL are not only playing with and against the best every week, they are right at the top of the game, not just contributing slightly," says McNamara.
None more so than the Burgess brothers - Sam, 24, and 21-year-old twins George and Tom. All are huge - and a huge story down under, where the sport has a much higher profile than in their native England.
They are key players at the South Sydney Rabbitohs club owned by Russell Crowe. McNamara reckons that nobody has benefited more from their presence than New Zealand hooker Isaac Luke, who made 2,180 metres in the NRL last season compared to a league average of 1,047 metres.
Canterbury Bulldog James Graham and Melbourne Storm half-back Gareth Widdop complete the NRL contingent.
Full-back Sam Tomkins is the world's most expensive player, winger Josh Charnley scored the most tries last season as Wigan completed the Challenge Cup and Grand Final double. Sinfield is a superb goal-kicker and the pack looks strong with a mobile hooker in James Roby.
Not that this will unsettle the Australians.
England's inability to defend their line against Italy was concerning, as was their failure to score any points in the second half.
Italy, to be fair, had a sprinkling of strong NRL talent in their side, but they are without their first-choice half-back pairing of Terry Campese and Craig Gower, and should have been easily despatched by a team quietly confident of winning the World Cup for the first time since 1972.
Kangaroos coach Tim Sheens watched that game and has since been making all the right noises about not underestimating England in the light of their defeat against Italy - but he does not reflect public opinion back home.
"Most Australians believe it's a formality that their team will regain the World Cup," says former professional Tulsen Tollett, who was raised in Australia and who now works for BBC Sport.
"Although English sport has gradually - if not begrudgingly - become respected by Australians for what it has achieved in the past few years, rugby league needs a performance reminiscent of England winning the Ashes in 2005 if there's to be a complete mentality change down under."
Of course, defeat on Saturday against Australia would hardly be the end of England's hopes - three out of the four sides in their group qualify for the last eight. But it would leave them with the probability of a tough semi-final against New Zealand.
"If we perform well enough we could go on and win the tournament but it's a long way off after the Italy game," adds Sinfield.
And right now very few people would disagree with him.