Super League Grand Final: Warrington v Wigan tough to call

By Brian Noble
BBC rugby league pundit and Salford coach
Last updated on .From the section Rugby League
You can split Warrington and Wigan by a fingernail.
Everybody is sitting on the fence and rightly so, it is that close. You look at the different styles of the two teams but on their day they can beat anybody and both know that.
It is about who turns up in the best shape. The side in the best frame of mind and with clarity of purpose will seize the day, but they are both fabulous teams.
Key battles
Warrington v Wigan

Michael Monaghan
Micky Higham
Michael McIlorum
Logan Tomkins

5

10

Tries

2

1

7

7

Assists

3

3

597

658

Tackles

653

449

379

342

Carries

343

169

1918

2212

Metres

1526

617

276

337

Dummy-half runs

322

152
One of the key match-ups will be Wigan's Michael McIlorum and Logan Tomkins versus the two nines of Warrington - Micky Higham and Michael Monaghan.
Warrington have a lot of players they can go to, like Monaghan and Higham, people who can play football. Half-backs Richie Myler and Lee Briers are in the mix and you have Stefan Ratchford chiming in from backfield, or wherever he happens to play.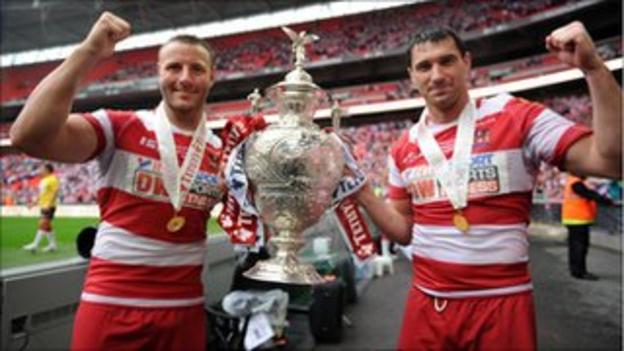 Then there are the Wigan halves, Matty Smith and Blake Green, who are very solid, very durable. They know the system instantly, they know what they want to do and when they want to do it. Warrington will have to disrupt that process and the way that Wigan play.
If you look at the Warrington back row, Trent Waterhouse and Ben Westwood have been very strong all year so Harrison Hansen has to step up and the question mark is over Sean O'Loughlin and whether he will play after making the squad. Plus, let's not forget Wigan have a decent pack themselves.
I have not even mentioned him yet but Sam Tomkins is going to want to leave [for New Zealand Warriors] on a high. He's an unbelievably gifted full-back who can change any game, so I am sure Warrington are aware of all of that.
Coping with the emotion
Wigan are losing and Lee Mossop to the NRL, while Adrian Morley,Brett Hodgson,Garreth Carvell and Mike Cooper are all exiting Warrington at the end of the season.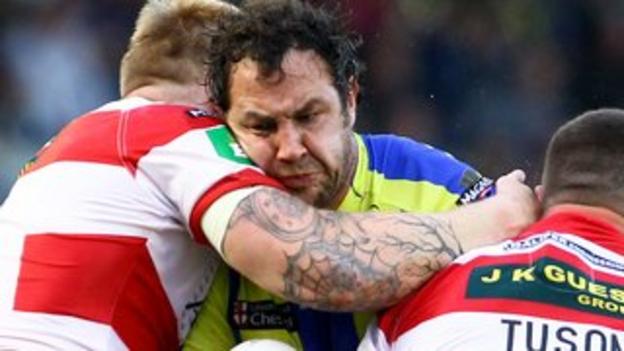 While it may be a motivation for them to win that is all it is, because if you focus on who is leaving and where they're going to be, you will come unstuck. That's the golden rule.
The focus has to be on the game, the performance and the clarity of message to the players. Once you start talking about the emotions, although it is emotional, if you focus on that you forget about the game, it goes by you and you don't give the people the send-off they deserve.
Players like Hodgson, Morley, Tomkins, Mossop, need to move on in the best possible style and the only way they will really do that is if they concentrate on how well they have played all year and what they have achieved at the clubs.
Pressure of a double?
The two finals [Challenge Cup and Grand Final] are a lot closer in time than when I won the double with Bradford in 2003. Bulls won the cup in April and then the Grand Final in October, now it is August and October so it makes it more difficult for Wigan, it raises the intensity.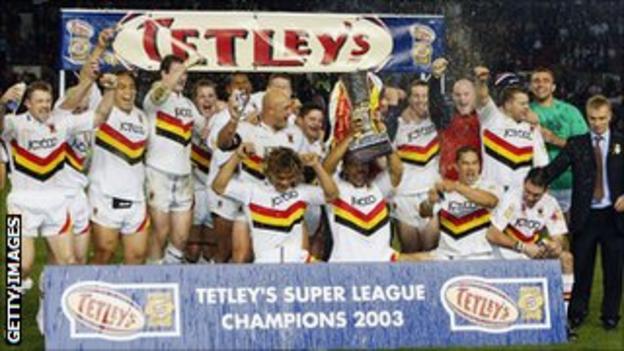 You have five or six really intense games on the bounce. You win at Wembley, then there is a bit of jiggery-pokery in the regular season, then it is semi-final football and then another final.
There is no doubt the incentive and will is probably stronger on the Warrington side because they have had the disappointment of being knocked out of the Challenge Cup.
Since then they have got themselves into a decent position where they could focus on this one trophy.
Meanwhile, Wigan's focus on the Grand Final has only come in the last week, because they are there now. To do the double would be an amazing achievement and they are very capable of doing that, but the Wire are probably really focused.
Clash of styles
The great football that Warrington play and the lovely structured stuff that Wigan play is pleasing on the eye, and while both teams pride themselves on defence I think it will be somebody in the attacking stakes who will break this game open.
Warrington have two different styles - a hybrid of structure and a little bit of freestyle stuff that Tony Smith likes to play - while Wigan are very structured.
It is not a clash of cultures, but it is certainly a clash of styles.
It may end up being the kicking game that separates the two teams - who is to bank against a Briers or Smith drop-goal to do it?