Paul Sculthorpe: What it takes to win rugby league's 'double'
Last updated on .From the section Rugby League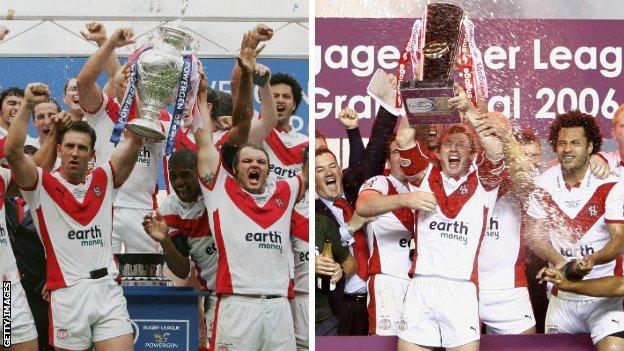 Nine clubs have completed the ultimate challenge in domestic rugby league of winning the Championship and Challenge Cup inside the same season.
St Helens were the last club to complete the 'double' in 2006, and their captain that year, Paul Sculthorpe, tells BBC Sport about what it takes to realise such a feat.
Mentality
To win the Challenge Cup, teams need to be victorious in a series of knock-out matches. To win the regular Super League title - and gain advantage in the play-offs - you need to raise your game over 27 games. To win the play-offs it again goes back to one-off football. All in all, a team that wins the double plays 35 gruelling games to ensure a successful campaign. Saints coped with all these pressures to finish outright winners in all three.
"All the expectations are on you, with winning one trophy and trying to keep that level up and pick another one up.
"It is tough. The Challenge Cup gives you another focus if you are not having a good season in the league, but it is quite mentally challenging to play all season and know you are only playing for the best opportunity to make a Grand Final. Once the play-offs kick in it is cup rugby, one slip-up, one bad performance and it could be all over."
Local core
The Saints team of 2006 was built on strong foundations, and notably a style forged around players brought up with a love of the Red Vee. Keiron Cunningham, James Roby, Paul Wellens and James Graham were all major players in Daniel Anderson's side - with Wellens picking up the Harry Sunderland Trophy for his display in the 26-4 victory against Hull in the Grand Final.
"Wigan have a lot of young players and local players, we had a lot of young St Helens lads.
"They bring that enthusiasm to the team and when the team is doing it tough that can certainly help."
Team spirit and coping with injuries
As Great Britain and Saints captain, and an influence at loose forward, Paul Sculthorpe's decision to have surgery on a troublesome knee injury in the build-up to the Grand Final could have been devastating to the players but they responded, with stand-in skipper Sean Long helping the club to success in a one-sided final.
"It was different for me in 2006 because I was suffering with injuries at that point, it was quite a tough year. I picked the Challenge Cup up and it was one of the memorable moments but my input in the game and the impact I was used to having was not that same because of the knee injury.
"It was a bit sour for me, but to be part of the team - and it is a team game - in 2006 was phenomenal and to get the BBC Sports Personality 'Team of the Year' was superb."
Consistency
Saints were a model of consistency in 2006. They lost just four regular-season games, and sailed through the play-off rounds to secure the big prize at Old Trafford. In the Challenge Cup, Saints scored 50-plus points in three of their five ties and 40-plus in the other two including a seven-try demolition of Huddersfield in the Twickenham final.
"It is the key but also confidence. Playing in big games and big occasions helps, and maybe that is what was lacking with Huddersfield. They proved on their day they can beat anyone and were the consistent team, winning the League Leaders' Shield.
"I was not surprised that Warrington picked them [Huddersfield, through Club Call] in the semi-finals because on the day, as Wigan proved, they can be beaten and maybe that was down to a lack of big-game experience."
X-Factor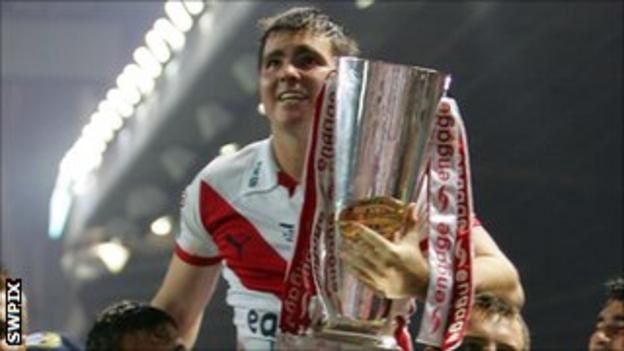 For Sam Tomkins in 2013, read Jamie Lyon in 2006. While Josh Charnley and Pat Richards offer quality and points to Wigan, much as Wellens and Long did in 2006, Australian centre Lyon had a magic touch with ball in hand and the boot. He made the 2006 Dream Team, and signed off with three goals in the Grand Final, to add to a try and seven goals at Twickenham, before returning to Manly in the NRL.
"In 2006 Jamie was something special. He could produce something out of nothing and he did it consistently. We saw him do things we've never seen players do before. He certainly had the X-factor, the pace and skill to come up with the goods every week.
"Finals are like Test matches - the intensity and quickness is ramped up from a regular Super League game because of what it means and sometimes you don't get as many opportunities as you do in a regular league game, and it is people like Lee Briers [Warrington stand-off] who can decide games and change games."
Hunger for more
By the time Saints arrived at Old Trafford in 2006, they had won three Challenge Cups in six years, while they were previously champions three times in four seasons between 1999 and 2002. That success proved infectious, spreading through the squad.
"Losing a final spurs you on to win more, but so does winning one. People say if you're in this game you want to play in a final, and once you've sampled that you want more. That was certainly the case for me, that's why you play the game.
"These are moments you cannot buy and to walk out in front of 80-90,000 people is electric. You cannot buy that."
What stopped Warrington from achieving the feat last year?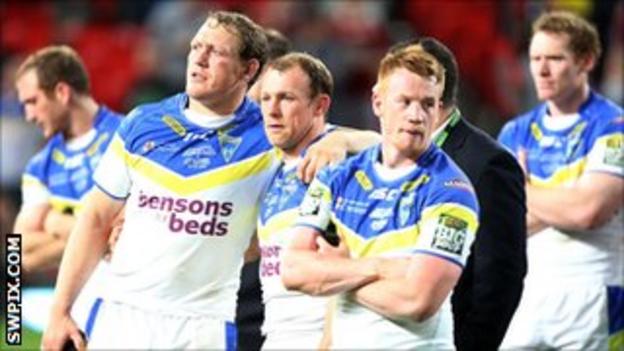 Warrington and Leeds met in both major finals in 2012 and shared the spoils, the Wolves taking the Challenge Cup, and the Rhinos lifting a sixth summer era Championship at Old Trafford. Despite beating Wigan, Leeds, St Helens, Huddersfield and Catalan Dragons in regular season and play-off matches, a first league title for 58 years has proved one step too far for the Wire.
"Simon Moran [Warrington owner] has done a great job with the club, thrown the money about and they have signed players. They are always linked to the stand-out players and have assembled a great squad. It just seems to be that consistency that has eluded them.
"They won the League Leaders' Shield in 2011 then won the Challenge Cup last year but fell one short at the Grand Final. I'm sure this is certainly the year they would like to progress.
"I fancy Warrington. In the past they have been undone but they are playing well, full of confidence."
Key to winning in 2013
Both teams are losing key players to the southern hemisphere's NRL competition, notably in the shape of Wigan trio Sam Tomkins, Lee Mossop and Pat Richards, and Warrington's Mike Cooper. The match also marks the farewell of Brett Hodgson and Adrian Morley from Wolves - two key members of the club's rise under Tony Smith. All those players can make an impact in a much-anticipated final.
"Whoever can get on top in the forward pack and create space for the half-backs will have an advantage. Lee Briers versus Matty Smith is a big duel with two good kicking games. Usually it is wet on Grand Final night and it can come down to the best kicking game, as Leeds have done in the past.
"In the second-row, Ben Westwood and Liam Farrell can set the platform to let the guys outside them do the rest."