Rugby League World Cup 2013: Why does it matter?
Last updated on .From the section Rugby League
Bang. That is how you are supposed to start month-long sports competitions.
Grab the public's attention and take them on an incident-packed journey to a climactic contest for the big prize.
The organisers of the 2000 Rugby League World Cup must have missed that memo.
They opted for a double-header in Paris and Ireland versus Samoa in rugby league hotbed Belfast, before finally getting to England against Australia at a half-empty Twickenham. Stretched across 27 venues in six countries, the 12th Rugby League World Cup was a textbook case of how not to do it.
The most ambitious tournament in the sport's history - and the last Rugby World Cup to be held in the northern hemisphere - lost nearly £700,000.
"We don't want to dwell too much on 2000. We have put it behind us," says RFL chief executive Nigel Wood.
"There is a different team of executives now and we think there's a groundswell of optimism coming into the competition."
To be fair, the 2013 edition, which starts in Cardiff on Saturday, looks very different: fewer teams and venues, a proper organising committee, a host-city bidding process, an innovative format and what promises to be a decent England team.
But more important than the tweaks, and the possibility of a first British win since 1972, is the sense that this World Cup might be the first to work out what it is for.
Having started in France in 1954 - 33 years before those conservative, rugby union types got their acts together - rugby league's big show had already been through about half a dozen changes by the time it got to its 11th instalment in 1995.
Having doubled the number of teams to 10, the organisers otherwise played it safe by mainly keeping to northern England. The tournament is fondly remembered as a fitting party for rugby league's 100th birthday.
But did it grow the game? Did anybody who was not already a committed fan notice? How did it compare to union's upstart competition? Does it matter that only three teams ever look like winning the thing?
Rugby league's bosses thought they knew the answers, and they did not like them. The message was clear for 2000, it seemed, standing still is dying. The result was Frankenstein's monster: an unloved competition of improbable dimensions and no sense of its own identity.
OK, the organisers could not help the rain, or that the Hatfield rail crash just before the tournament made north-south travel in England very tricky. Neither could they do much about Australia being so good they should have been made to play with 12 men.
But there can be no mitigation for staging New Zealand versus Lebanon (a team made up of Australians of Lebanese descent) in the rugby union stronghold of Gloucester, or Scotland against Aotearoa Maori (a New Zealand second team) at a football ground in Glasgow. The total attendance of those two games was 4,504.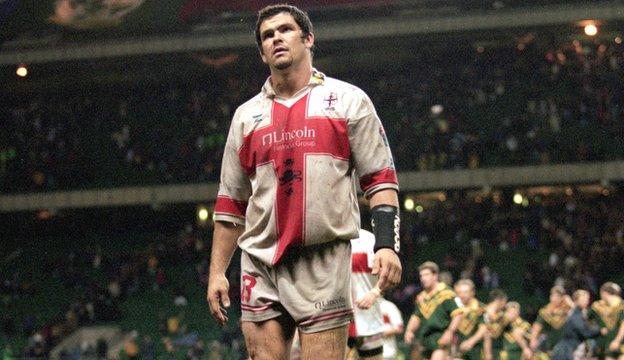 Crowds, or the lack of them, were an issue throughout, which is not surprising when you consider how many games were played in football grounds, and how few were contests - only eight of the 31 matches finished with winning margins of 10 points or fewer; there were 12 games with margins of more than 40 points.
It was expansion for expansion's sake, and floating fans floated away.
"There are clearly lessons to be learned," was the understated assessment of former Rugby Football League (RFL) chairman Sir Rodney Walker, speaking after Australia's ninth World Cup victory.
"It would be fair to say that there was not much proper planning done," recalls Leeds Rhinos chief executive Gary Hetherington.
"A lot of assumptions were made and in hindsight it was a disappointment."
It was also a major setback for the game's hopes of replicating rugby union's more global canvas. The Rugby League International Federation, the global governing body, works like a charity with just one big fundraiser every four years. One year of feast, three or four years of development cheques to the sport's minnows.
The experience in 2000 was so bruising the World Cup did not come back until 2008 in Australia. It was a success. New Zealand upset the hosts in a memorable final, the tournament made a profit and international rugby league was back.
But most significantly, the competition had rediscovered its purpose: a celebration for its loyal fans, and an advertisement to potential fans.
"We've got a solid business at Leeds - 15,000 fans who come week in, week out," explains Hetherington.
"If the World Cup disappoints that won't change. But if it goes well, there are potential spin-offs for everybody.
"We're bringing the world's best players to our neck of the woods and I'm sure some of them will end up in Super League next season.
"We can also see from the ticket sales for our two games (New Zealand-Papua New Guinea and a quarter-final) that a lot of people will be coming to their first rugby league game."
Hetherington says 60% of the first 4,000 tickets sold at Headingley went to people not on the Rhinos' computer system. That might be because their fans were more focused on the Super League play-offs, but it tallies with a figure of one in four tickets across all 21 venues going to new fans.
"It's fantastic that so many tickets have been sold to people outside the heartland," says Leeds and England captain Kevin Sinfield.
"I would say to people who are new to the sport 'come with an open mind and you'll be pleasantly surprised by what you see'. The athletes on show, the ferocity, the skill level - people will be bowled away by it."
The organisers have set themselves a target of 500,000 tickets across the 28 games - double the amount sold in 2000. Whether they get there or not will depend on how Sinfield's men fare, and the tournament's new structure.
The game's best eight teams are divided between two groups, with three quarter-final slots available in each group. The remaining two places in the last eight will go to the winners of groups C and D, six emerging nations who have fought through pre-qualifying to be here.
The idea is to avoid the blow-outs that have marred other World Cups - in both codes - and to give every team a chance of scoring tries, and hopefully winning a game. Could this be the next league brainwave to crop up in union at some point?
The mix of venues is smarter than 2000's, too. It starts big with a double-header at Cardiff's Millennium Stadium - rugby league's trump card, England against Australia, followed by Wales versus Italy - and then heads to the heartlands of Hull and Warrington on Sunday for Papua New Guinea v France and New Zealand-Samoa.
"That's a seductive offering in anybody's language," says Wood. "We'll have a good idea of where we are after that."
England's next group game against Ireland in Huddersfield is the first sell-out, with the final at Old Trafford not far behind, and tickets going fast for the two games in the south of France, a traditional league stronghold.
In fact, the only real departures from the tried-and-tested list are Bristol and Limerick, but both came through a bidding process, which means the local authorities want this to work and are sharing the marketing load.
The semi-finals are a double-header at Wembley, but even with fans getting a two-for-the-price-of-one deal the overall numbers should at least double the crowds at 2000's semi-finals. Barely 25,000 went to those.
And then there is the television audience.
"This is the best national team for 25 years and they're going to be on the BBC every weekend for five, hopefully six, weeks. That will elevate the team's profile, the players and the sport," says Hetherington.
That assessment of England came a few days before the shock defeat by Italy in a warm-up game on Saturday.
Everybody associated with rugby league, even the most ardent Australia fan, will be hoping that was an aberration. Having only three genuine contenders for a contest purporting to be a "World" anything is fine (how many teams can really win football's World Cup next year?), but losing one would hurt, particularly if it is the home team. World Cups of any variety need a bit of parochialism.
It will be exactly the same when union's World Cup is staged in England in 2015, but a run to the final for Stuart Lancaster's men would see the other code enjoy blanket media coverage. Can that be said of England in this World Cup?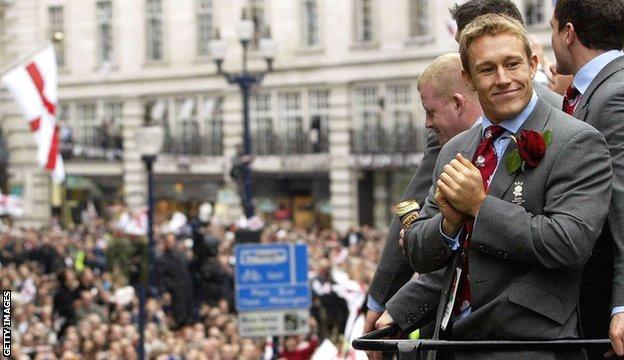 "There's not a lot of mileage in peering over the garden fence and looking at somebody else's vegetable patch," counters Wood.
"We know we've got a good patch of our own.
"Of course, we'd like greater exposure and revenues, but we are confident that this will be the best World Cup our sport has ever put on."
It is a sentiment shared by a man who narrowly missed out on selection for England's 24-man squad, Jon Wilkin. But the St Helens star's ambitions for the tournament are two-fold.
"From a playing side, it's simple: win the tournament. But for the wider game, there's a huge opportunity to take the sport on to a national level, give the papers and news programmes a reason to mention rugby league," says Wilkin.
"But we've got to be ready to deal with the increased interest that would come with success. So that would be the real success, creating awareness and then dealing with it."
So rugby league wants its own Jonny Wilkinson moment, but must be ready to adapt when it comes?
"I think we need to let go a bit," explains Wilkin.
"Rugby league needs to escape the working-class bubble it has lived and blossomed in. And I mean that in the nicest way.
"If you look at the history of our game, factory-owners in the north used to pay people to play for their factory teams.
"We're still a community-based sport. Essentially the rugby clubs have become the factories, the chairmen are the owners, the players are the workforce and the fans are the customers. So we've not got away from that model.
"That's great because we still have a fantastic community game, but I'm a big believer in breaking down those social barriers to let our game grow, and I think part of that is our passionate support relinquishing a bit of control."
So there you have it. The Rugby League World Cup aims to be a long and enjoyable party and like all the best parties it's about letting go and making new friends. Enjoy.