Jordan James: Wales prop signs for Gloucestershire All Golds
Last updated on .From the section Rugby League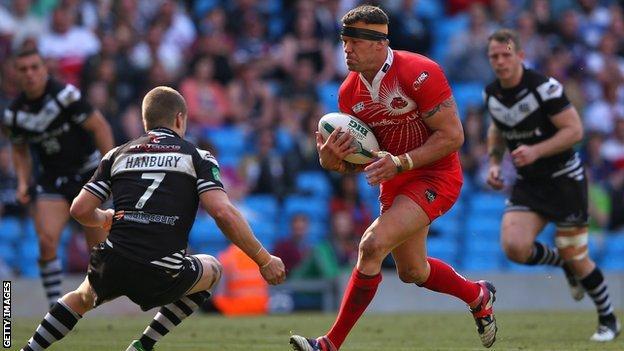 Wales prop Jordan James has agreed a two-year deal to play in Championship One with Gloucestershire All Golds.
The 33-year-old has spent much of his 10-year career in Super League with Wigan, Castleford, Widnes and Salford.
James turned down a new contract with the Red Devils to join the University of Gloucestershire side, and will also work as a part-time coach with Wigan.
"He's a great leader and great man," All Golds president Lionel Hurst told BBC Gloucestershire.
"Jordan will join Wigan as part of their coaching staff and move to live in South Wales, to also coach the Wales Under-16s and at Maesteg college.
"He had lots of offers to play in the north of England but we are very ambitious, so why wouldn't he want to come here?"
Bath-born James started his playing career in Gloucester, playing as an amateur for Gloucestershire Warriors while serving as a Royal Marine.
He is now is just four appearances away from becoming the most capped Wales international of all time, and has been named in the squad for the forthcoming World Cup, which starts on Saturday with a double-header at Cardiff's Millennium Stadium.
All Golds head coach Brad Hepi added: "Jordan brings with him a wealth of experience from Super League, and he's a tough, seasoned performer.
"That is exactly what we were lacking last year. Jordan is the sort of player you can build your squad around. He brings the brains, experience and toughness that you need to compete at this level.
"It's a massive signing for us, and it is a signal of intent to the Rugby League world just how serious we are taking the game down here."
Gloucestershire All Golds finished bottom of the Championship One standings this year - their first season in the third tier - with two wins from 18 games.