Rugby League World Cup 2013: Fiji and Rochdale united by sport
By Phil Cartwright
BBC Sport
Last updated on .From the section Rugby League
This is the remarkable story of how an old mill town in England's north west and a group of islands in the Pacific Ocean became the unlikeliest of allies.
With their obvious cultural differences, it is almost unthinkable to comprehend a long-lasting companionship between Rochdale and Fiji.
And yet, with the help of rugby league, the strongest of friendships has developed - one that was celebrated on Monday when the Bati opened their World Cup campaign with a 32-14 win against against Ireland at Spotland.
The tale begins late in 1961, when Orisi Dawai and Joe Levula travelled 10,000 miles to sign for Rochdale. Little did they know they would start a bond that would transcend the sport and last for more than half a century.
Levula had been spotted playing in a rugby union game by Hornets chairman Arthur Walker three years earlier, while Walker was with Great Britain's touring party in Australia.
Struck by the winger's imposing physical presence, he made it his mission to bring Dawai and Levula back to England.
But that presented a problem. Walker's interest came at a time when Fijians were forbidden from leaving the country except for educational purposes. Even then, they had to return home at the end of their studies.
The law was only removed following the death of the reigning paramount chief, which allowed Dawai and Levula to become Fiji's first professional rugby league players.
Two more Fijians, Liatia Ravouvou and Voate Drui, followed in the months afterwards. Drui, now aged 81, is the only surviving member of that original foursome.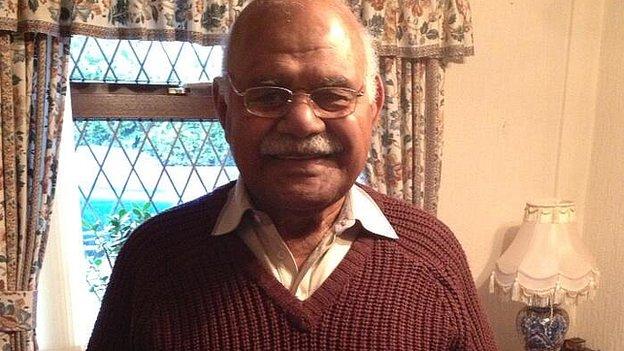 "There was all this lovely, thick snow on the ground," he told BBC Radio Manchester, recalling his early days in Rochdale - the town he has called 'home' for 51 years. "You had to be careful because you could slip and fall down. It was so wonderfully different from Fiji."
Having seen the impact the Fijians had made in Rochdale, as well as the huge press coverage that had greeted their arrivals, Walker even placed an advert in the Fiji Times appealing for more players.
Back home, the four were national heroes and many craved the opportunity to join them in England. Mike Ratu was one of them.
"They were icons," he told BBC Sport.
At the time, Fiji was under British rule and remained so until the nation was granted independence in 1970. A teenage Ratu ran away from school and, not even telling his closest family of his plans, secretly applied to join the British Army, who recruited more than 200 Fijians.
He continued: "We were based at Catterick [in North Yorkshire] with the Royal Signals. Every time we had 72 hours of leave or a week of leave, we came to Rochdale.
"It was more important than London, as far as we were concerned. Some even thought Rochdale was the capital. Any spare time we had, we came to Rochdale just to be with these icons.
"It's like a home to us. The people of Rochdale took us in their hearts, we mingled together and it became our village. I still call it our village.
"We were brought up with English ways of life because we were part of the Commonwealth.
"The only thing that changed for us was the weather," he joked. "It was freezing."
After his spell in the forces, Ratu eventually settled in Rochdale, marrying a local woman, and joined the Hornets in 1965, becoming the first of three generations of the Ratu family to represent the town's rugby league team.
Even though he is now in his seventies, his passion for his former club remains, taking every opportunity he can to watch them in action.
Rochdale boasts the largest Fijian community in the United Kingdom, and so when England and Wales were announced as co-hosts for the 2013 World Cup, Spotland always seemed a likely location to stage one of Fiji's group matches.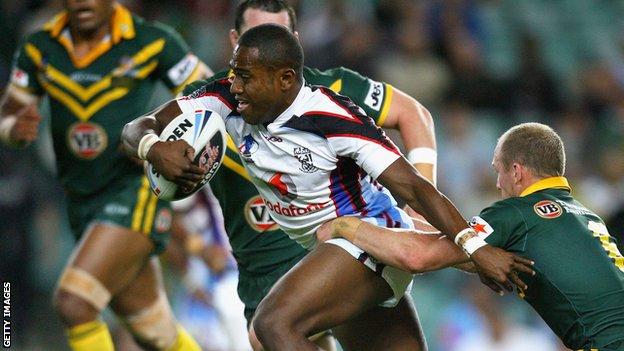 But, as Hornets chairman Mark Wynn explained, it took four years of hard work to make Rochdale's dream a reality.
"We wanted a Fiji game and we made the assumption that we wouldn't get England v Fiji or Australia v Fiji, so we nailed our colours to the mast and went for Fiji v Ireland," he said. "We were told we couldn't bid for individual games, but we stuck to our guns.
"The story of Fiji's links with Rochdale was really on a shelf gathering dust, but people like myself and [Hornets chief executive] Ryan Bradley were shouting it from the rooftops.
"It's what World Cups are about. Sport, on an international stage, crosses boundaries and it becomes more than just two lots of 13 blokes playing."
Playing a warm-up game against the Hornets in the build-up to the World Cup was the ideal chance for the current Fiji squad to discover how significant Rochdale has been to their country's rugby league heritage.
Fiji won 78-0 at Spotland - a meaningless scoreline at the end of a historic contest. It was all about making Fiji feel at home in the town, as had been the case more than five decades previously.
And after meeting some of those early pioneers, Fiji - led by captain Petero Civoniceva - are determined to honour the legacy they created.
Born in Suva, the capital of Fiji, Civoniceva and his family emigrated to Brisbane before his first birthday. The 37-year-old played 45 Tests for Australia, his adopted nation, and started their World Cup final defeat by New Zealand five years ago.
The veteran prop forward will skipper the country of his birth at the 2013 tournament, with a determination to add a new chapter to this enchanting story.
"It's something that the players have been very humbled by - the Fijian connection to Rochdale," said Civoniceva, who has said he is likely to retire at the end of the World Cup.
"To have a few players from a tiny Pacific nation come thousands of kilometres away to ply their trade makes us feel very proud - hopefully we can keep that proud link to Rochdale going."
The former Brisbane Broncos and Penrith Panthers player continued: "The majority of people in Fiji wouldn't know about Rochdale so this is a great way to highlight this story, and also the fact that we had so many Fijian soldiers serving in the British Army.
"Their support is something we've been blown away by since we've arrived. We're very grateful for their support and hopefully we can do them proud."
As for their World Cup prospects, Fiji - ranked seventh in the world by the Rugby League International Federation - are in Group A alongside England and Australia, two of the pre-event favourites, so victory against the Irish was vital.
Fiji reached the last four of the World Cup in 2008. If they are able to emulate that in 2013, there will be massive celebrations back home. And also in a small part of Greater Manchester, too.