Super League restructure: Six clubs walk out of meeting
Last updated on .From the section Rugby League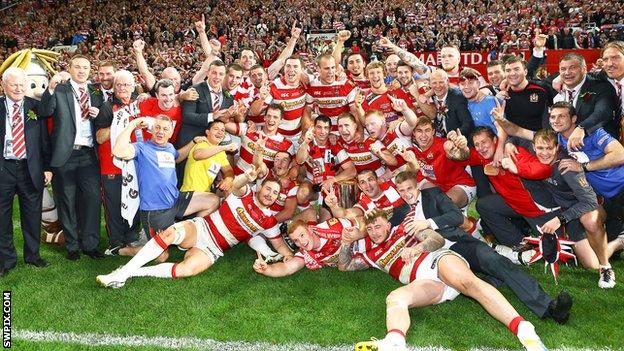 Officials from six of the 14 Super League clubs walked out of a meeting set up to discuss the proposed restructure of the competition.
The other eight clubs had indicated their support to reduce the number of Super League teams to 12 in 2015.
But the absence of representatives from Catalan Dragons, Huddersfield, Hull FC, Hull KR, Warrington and champions Wigan prevented a vote taking place.
It is a to proposals that were
Under the new format, a league comprising two divisions of 12 teams would be introduced from 2015, with automatic promotion and relegation returning in place of the current licensing system.
A Super League statement said the six clubs blocked a vote to push through those proposals, on the basis that any debate on change should only take place alongside a review of the competition's commercial management and governance.
Super League chairman Brian Barwick said: "It is very disappointing that we were unable to take a vote on such important issues because some clubs chose to leave the room and refuse to participate further.
"In many ways, this form of action is unprecedented. These proposals would have had a positive impact on the whole sport but they were halted by a minority of clubs.
"Clearly some of the clubs have deep-rooted issues and between us we have to find a way of resolving our differences for the benefit of both Super League and the wider game.
"It is my view that this was a very unsatisfactory way for the six clubs to demonstrate their frustration."