Rugby League World Cup 2013: Scots target last eight - Brough

By Phil Goodlad
BBC Scotland
Last updated on .From the section Rugby League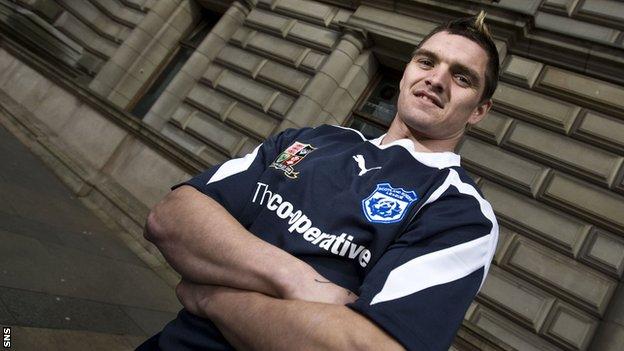 Scotland aim to reach the quarter-finals of the Rugby League World Cup, according to captain Danny Brough.
Yorkshireman Brough, who qualifies to play for Scotland through his grandfather, said the players were raring to go.
"I think it is realistic and something we can achieve," he told BBC Scotland when asked if a place in the last eight was a possibility.
The Scots face Tonga in Cumbria on Tuesday in their opening Group C game.
Group C also boasts Italy, who opened with a victory over Wales, with the group winners progressing to the knockout stage.
Brough was Scotland skipper at the 2008 World Cup before going on to represent England in an International Origin match against the Exiles.
He will feature for Scotland during this World Cup after England decided not to select him and the Huddersfield star, who recently won the Man of Steel award as Super League's best player, is determined to shine.
"People might put us down and not back us, but we've got a group that believe in us and Steve McCormack does as well," he said of the Scotland coach. "I think that's really good.
"We're looking forward to the World Cup; we won one game in the last World Cup and this year we're hoping to top our group and get to the quarter-finals.
"Anything can happen on the day and we're going to go out to prove the point that we can win games at the World Cup."
Bough insists that the fact he has turned out for England in the past will not affect his commitment levels when playing for Scotland.
"I don't worry about that and I'm happy playing for Scotland," he said. "It's as simple as that and my family are proud that I'm doing it.
"It's good for me and I just want to go out and make the Scottish nation proud of me; putting my heart on my sleeve and working as hard as I can for the country.
"I'd like to think I'm a player who wears his heart on his sleeve and gives 100%.
"I'm a competitor and one thing I hate is losing."
Brough is aware of the popularity of rugby union in Scotland but believes a good World Cup could also benefit rugby league north of the Border.
"Union is massive up in Scotland and, to be playing here in Cumbria with the first and second games both sell-outs, we're getting really good support down here," he said.
"I hope it feeds back up to Scotland and obviously we need to perform on the field for the fans to get behind us and that's something I'm hoping we can do."
McCormack is confident Brough and his team-mates will relish the big stage.
"Danny is the captain of the team and he has a massive influence off the field," said the coach.
"We're not a team of superstars, but we're a team of really good players that work very hard together.
"Danny is at the head of that. He works exceptionally hard."