Rugby League World Cup 2013: Sam Burgess 'is no thug'
Last updated on .From the section Rugby League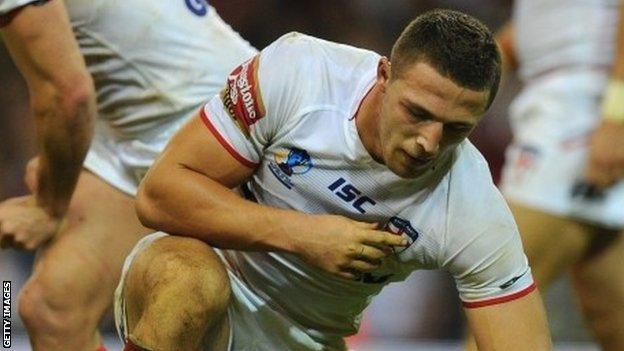 England coach Steve McNamara has defended Sam Burgess from an Australian journalist's claim that he is a "thug".
Burgess, 24, is banned from Saturday's World Cup match against Ireland
"Anyone who understands Sam knows he's not that type of player," McNamara said. "He got his timing wrong."
The forward has served three suspensions for South Sydney in the National Rugby League this season.
Sydney-based Daily Telegraph's sports editor at large Phil Rothfield said: "He is a thug.
"No other word adequately describes the man's appalling and inexcusable behaviour on rugby league fields in 2013."
But McNamara said that is "completely wrong" and claimed the former Bradford player's punishment is in line with the precedent set when the Kangaroos's own Tony Williams was given a one-match ban in the 2011 Four Nations Series for a similar tackle on England's Ben Westwood.
"Williams nearly decapitated Ben Westwood and got a one-match ban," McNamara added. "Sam has got to pay the price for his clumsy tackle and we've got to take that one on the chin.
"If you watch the tackle closely, Sam didn't go to maim anybody."
Burgess is set to be replaced by Wigan's Sean O'Loughlin, who has not played since victory over Warrington in the Super League Grand Final earlier this month.
McNamara said O'Loughlin, who missed the defeat to Australia and the warm-up defeat by Italy with an Achilles tendon injury, has a "real strong chance" of starting.
Canterbury Bulldogs prop James Graham could also come in after being overlooked by McNamara for the match against Australia.