Jamie Peacock column: My memories of Fiji? Chipped teeth
Last updated on .From the section Rugby League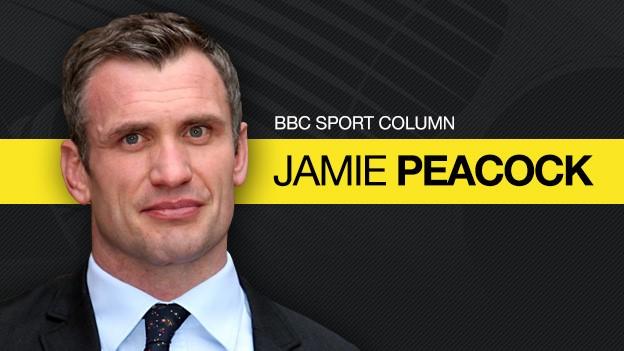 Former England and Great Britain captain Jamie Peacock is part of the BBC Sport team covering the Rugby League World Cup. In the third of a series of columns Jamie discusses the threat posed by Fiji, the difficulties of getting out of bed after a physical game and why this World Cup is shaping up to be the best ever.
Get ready for the pain
No, that remains a bone-crunching but entirely legal tackle that left me with three chipped teeth at the back of my mouth. I was seeing stars after that one but just had to get up and on with the game.
Fiji just come out and hit you so hard - and anyone who has seen them at this World Cup will know England can expect more of the same in Hull on Saturday.
I reckon there are two basic approaches England can take into this game.
The first is to play cute and fast, using their passing game and combinations to tire out the Fijians and get around the edges of their defence.
The second is to take them on at their own game, adopting a very physical and direct approach. Every time they run at you, make sure that you run back just as hard and make sure that they break first.
I think the smartest thing would be to adopt a mixture of the two - but it will not be easy against a side that possesses a top-quality back division and some awesome forwards such as veteran prop Petero Civoniceva.
There are some games in international rugby that you know are going to be extremely painful. You've just got to make sure that you spend all week properly preparing for the challenge.
For me that would involve thinking about which opponents I would search out and run at with the ball, whether it would be best to spin and off-load after colliding with a certain individual, or just crash into them full-on.
There are times when you just have to show the doggedness and the stubbornness to see it through. It is part of what our game is all about.
I've talked about this with mates and tried to describe what it is like to play against a top-quality pack. There is a 10k race for charity in Leeds called the Abbey Dash. I tell them that it is like running that race, but every 200m having to fight off someone trying to mug you.
The day after a big match it takes me ages just to get moving - from lying down to sitting up in bed, it feels like the very last sit-up that you might do after a long session in the gym. Or the worst hangover and the worst bout of flu you have ever had combined.
After playing Fiji on Saturday, England's players will experience something like this on Sunday morning.
The best World Cup ever?
Some people reckon that the 2008 World Cup in Australia was the most memorable we have had but this tournament is easily on course to become the best ever.
I remember the last one over here in 2000, which is not remembered particularly fondly. Everything was blamed for its perceived failure - from the atrocious weather to the glut of one-sided scorelines.
The weather hasn't been great this time but that does not seem to have been a problem. Huge credit must go to the players and the crowds. There have been record attendances at Huddersfield, Rochdale and Leigh and this is, in part, due to a shift in the British mentality after the London Olympics.
People don't have to know all about a sport anymore to watch it, they can appreciate that this is the blue riband event for rugby league and want to come out and support it.
The players have certainly responded to this challenge, with a series of close and highly-skilled games, including a 30-30 draw between Scotland and Italy in Workington last Sunday.
There have also been some amazing moments, such as the French and New Zealanders all heading to the same dressing room for a few beers immediately after the Kiwis' 48-0 victory, and the Australians and Fijians huddled in prayer after their match in St Helens last Friday.
Influence of the NRL
Somebody told me the other day that there are close to 150 players from the Australian National Rugby League playing at the World Cup.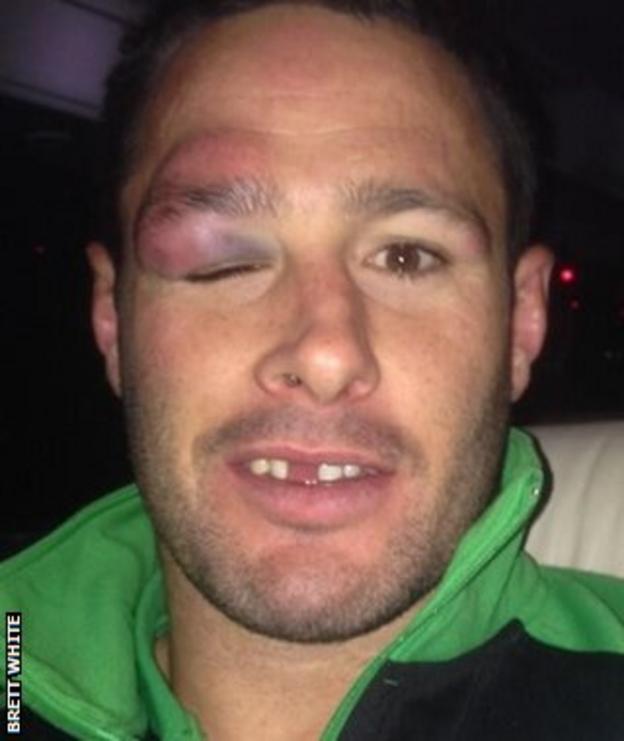 Obviously there are 24 in each of the Australia and New Zealand squads but that still leaves a lot of others competing for the remaining 12 nations.
I think this has unquestionably added to the tournament. What greater way of increasing participation in the domestic league of, say, the US if there is a chance that you might meet up in the Tomahawks squad at a World Cup playing alongside a superstar from the NRL or Super League?
There are lots of top NRL players representing the emerging nations and the commitment, professionalism and attitude that they bring will rub off on the other players.
One good example is Brett White, who currently plays for Canberra Raiders in the NRL, and has represented Australia and New South Wales in State of Origin.
He is playing for Ireland at this World Cup and a photo of his busted, bruised face on Twitter the other day told you everything about his commitment.
I know that some people say that it means teams are just packed with Aussies but people are proud of their family heritages and blood lines and are rightly able to represent them.
Farewell to a great
I said at the start of this column how hard Fiji can hit you - and there is no finer example of this than their 37-year-old captain Civoniceva.
He is representing the land of his birth at this World Cup and will retire at the end of the tournament.
The giant prop has enjoyed a sensational career in Australia. He played 45 times for the Kangaroos and 33 for Queensland in State of Origin and I can tell you from experience he is a fearsome competitor.
He never really said much during a match, he just ran at you, again and again. Afterwards he was always happy to exchange a quiet word and I once swapped shirts with him.
Saturday will probably be the last time he plays against England and the fans in Hull should make sure they give a great player a generous send-off.