Rugby League World Cup 2013: McNamara unfazed by Hardaker
Last updated on .From the section Rugby League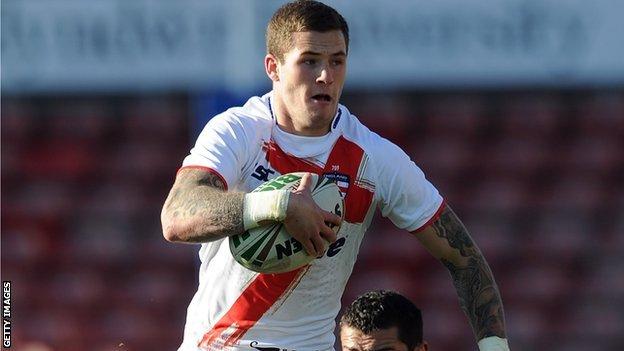 England coach Steve McNamara says he is not frustrated by Zak Hardaker's withdrawal from the World Cup squad.
Hardaker's decision to withdraw has been described as "concerning" by Leeds boss Brian McDermott.
But McNamara said: "When you coach or manage, you have all sorts of different situations to deal with. I'm really happy with the squad that we've got."
Hardaker, who was not chosen for either of England's first two tournament matches against Australia and Ireland, is the second player to exit McNamara's squad after Salford's Gareth Hock was thrown out for disciplinary reasons.
McNamara drafted Huddersfield's Brett Ferres in to fill the void caused by the loss of Hock before the tournament began.
But speaking at his weekly news briefing at Loughborough University on Tuesday, McNamara maintained his steadfast refusal to comment on rumours of breaches of the team's alcohol ban.
He has ruled out drafting in a replacement for Hardaker ahead of Saturday's game with Fiji at KC Stadium, Hull.
"I didn't want to," added McNamara. "We've got a very good squad, we're covered in most positions."
Hardaker is expected to shed some light on the circumstances behind his decision after meeting with his club on Wednesday and McDermott is looking for an explanation.
"It's clearly concerning what's happened and, until we find out the nature of what's happened, I'm not sure what to say," Leeds boss McDermott told BBC Sport.
"Zak was in the England squad and now he's not in the England squad and that in itself is a disappointment.
"But other than that, I'm a bit wary of saying too much until we've talked to him and our own club has made some enquiries."