Phil Jones: London Broncos head of youth joins Warrington
By Ian Ramsdale
BBC London Sport
Last updated on .From the section Rugby League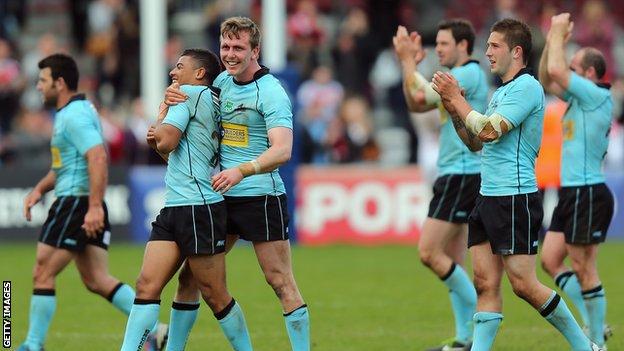 Head of youth performance Phil Jones is to leave London Broncos after a 15-year association with the club to join Warrington in a similar role.
He told BBC London 94.9: "It's a massive wrench to do something new, but the club is still sorting out its future and a new opportunity arose.
"It has been a fantastic job."
He continued: "Whilst we say it's hard in London, there are some great rewards to doing it. It has certainly shaped me as a person and what I can do in the future.
"I'm not sure I'd have had these opportunities if I'd started working in the game elsewhere."
Jones joined the Broncos in 1998 as a development officer, but became player performance manager six years later and then took on the role of head of youth performance in 2008.
He will leave his post at the end of this week.
"Hand on heart I'd like to see this job through to the end - not that I'm sure where the end is," he said.
"There's massively more to do in London.
"You're just trying to catch that big wave that will see even more players challenging to become Super League players.
"I always envisioned a future where there would be a surplus of talented players; London rugby league and the Super League team wouldn't be able to accommodate them and the rest of the game would also be getting the benefit of the fantastic players that there are in London."
Over the last 15 years, Jones has been building a youth development system that, in recent years, has been baring regular Super League level fruit.
Most recently Wigan bought Clubb, the former Broncos club captain and their longest-serving player, along with stand-off Dan Sarginson.
Despite their sales, the future of the London Broncos remains unclear, with the club yet to confirm their plans for 2014 or secure a new home venue.
However, the academy - run by Jones and his player performance manager James Massara - returned to training this week with almost all of the 26 contracted players involved.
Jones hopes the Broncos can secure a future as he feels it is crucial for the sport - and not just in London.
"Lads need somewhere at the top to aim for," he said.
"That certainly drove people like Tony, Louis, Jamie O'Callaghan and Mike McMeeken. They wanted to become professional athletes and play at the highest level they could.
"If Broncos don't continue, whilst people may say there are still avenues to go to the north of England, that's a very hard concept to deal with when you're 12, 13 and 14 years of age and first getting into the sport.
"It's much easier to buy into 'I want to play for my local team'.
"I do believe that it will make a massive difference to the game in this country if London is successful and successful in producing more and more players. That is what I want to see.
"You look at the figures, most of the boroughs in London have a bigger population than the main cities that play rugby league in the north of England.
"Alongside that, due to the population of London there's such a mix of races and ethnic backgrounds, this is where the future Greg Inglises are going to be."